Weekly Groceries Delivered From Independent Farmers - to DC, VA, & MD
4P Foods delivers in-season produce sourced from independent farmers we know and trust in Washington, DC, Virginia, Maryland, and through the Eastern Seaboard and MidAtlantic.

Sign up today for your first 4P Foods tote!
How We Work
Sign up. Customize. Repeat.
We deliver to Washington, D.C., Northern Virginia, and Southern Maryland.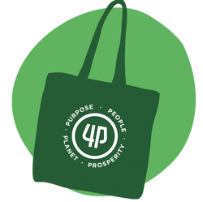 1. Pick Your Tote(s)
Choose how to get your groceries.
Small, medium, large totes.
Veggie, dairy, or proteins.
Or, just shop for what you need!

We tote-ally get your dietary requirement and schedule.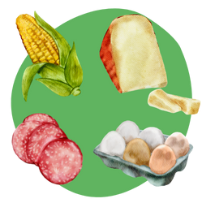 2. Add What You Need
Customize your 4P Foods tote or trust our in-season picks.
Try a new veggie or fruit or swap in food you already know and love!
We also have the staples you need: eggs, milk, cookies - all lovingly sourced from farmers and makers we know and trust.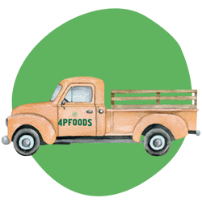 3. Delivered Weekly
Get your 4P Foods grocery tote weekly, bi-weekly, or once a month.
We deliver right to your doorstep or community pick up point.
Change frequency of delivery, pause for travel, or cancel as needed!
what customers are saying
"We've tried many meal prep kits and grocery delivery services - nothing compares to the quality of 4P Foods.."
"I choose 4P because they work with small growers and help farmers, plus I love the fresh, diverse offerings and items."
"I love that I know what I'll be getting, can skip a week or donate. The veggies and fruit so far have been amazing and I love the recipes in the newsletter."
"4P Foods makes buying local so easy. With direct home delivery, an online shop, and an entire box of seasonal veggies for the week around $30."
"The food is fresh and amazing, there is great flexibility. I know I am getting nutritionally dense food and making a difference for my health, my community, and the planet."
"It is nice to know I am eating locally grown foods that are, mostly, organic. Go with 4P foods! You won't regret it. 4P 4Eva!"
"We ate well this year, and lost weight! Great for pandemic, but even better for long term shift of eating local in season. "
"Huge fan of their meat share! 4P Foods has made me feel a lot more comfortable about the healthiness and ethics of the meat we eat!"
"I can sing the praise to your amazing farmers who are providing the best, healthy food for us! We love you all and are so thankful that you are feeding so many people."
"4P meets me halfway in that they provide a connection point between my store and a varied regional selection of products, a relief I am sure to busy farmers, and this with a personable and easy to work with staff. I highly recommend them."
Previous
Next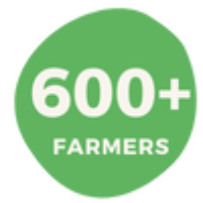 We support more than 600 independent farmers in the region.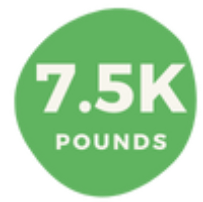 Every month, we deliver more 7,500 pounds of food into underserved communities across DC, MD, and VA.
Our mission at 4P Foods is to connect all people and communities to regional farmers and responsibly sourced food.
Each day, our work at 4P Foods gets us closer to the kind of food system farmers thrive in, soil is regeneratively cared for, animals are treated humanely, and all communities have equitable access to healthy food.
Find out more
The Monthly 4P Foods Harvest
Our insights on Farming, Food, News, and more
Simple Pumpkin Pancake Breakfast Recipe
Quick Leftover Turkey & Cranberry Wrap Lunch Recipe
Quick Leftover Turkey Hash Breakfast Recipe
Simple Air Fryer Crispy Potato Skin Snack Recipe
Simple Air Fryer Spicy Cauliflower Snack Recipe