Community Events
Good Food And Home-Grown Fun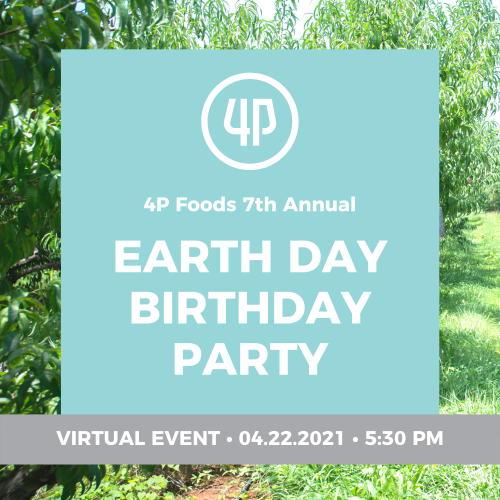 Earth Day-Birthday Party
Thursday April 22, 2021
5:30 pm - 6:30 pm
Zoom
We're having a party! Celebrate our 7th anniversary as a benefit corporation dedicated to helping our farmers, members, and community thrive through Good Food as we reflect and look ahead on the journey to building a more sustainable food system on Earth Day.
This year, 4P's Founder and CEO, Tom McDougall invites you on a virtual tour of the 4P Foods warehouse for a look "behind the curtain" to see where the Good Food delivery magic happens. Be prepared for plenty of dad jokes, cameos from the 4P team, including our warehouse crew who delivers and packs your food each week, to our procurement team, who will share stories from spring planning (and plantings) with local farmers.
Tune in to hear Tom share a few words about 4P's work and mission to build a more resilient and equitable food system, now more than ever during an unprecedented year. Most of all, we'd like to raise a glass to you, our members and supporters who make this work possible!
The event is free. In light of the occasion, we are inviting guests to take action to make a donation to Foodshed Capital Black Farmer Fund. Foodshed Capital is a local organization that provides financial stewardship to local farmers and food enterprises with the mission of fostering an equitable and regenerative local food economy. Learn how you can support their incredible work here.
RSVP to receive the event link when it's party time.