Community Events
Good Food And Home-Grown Fun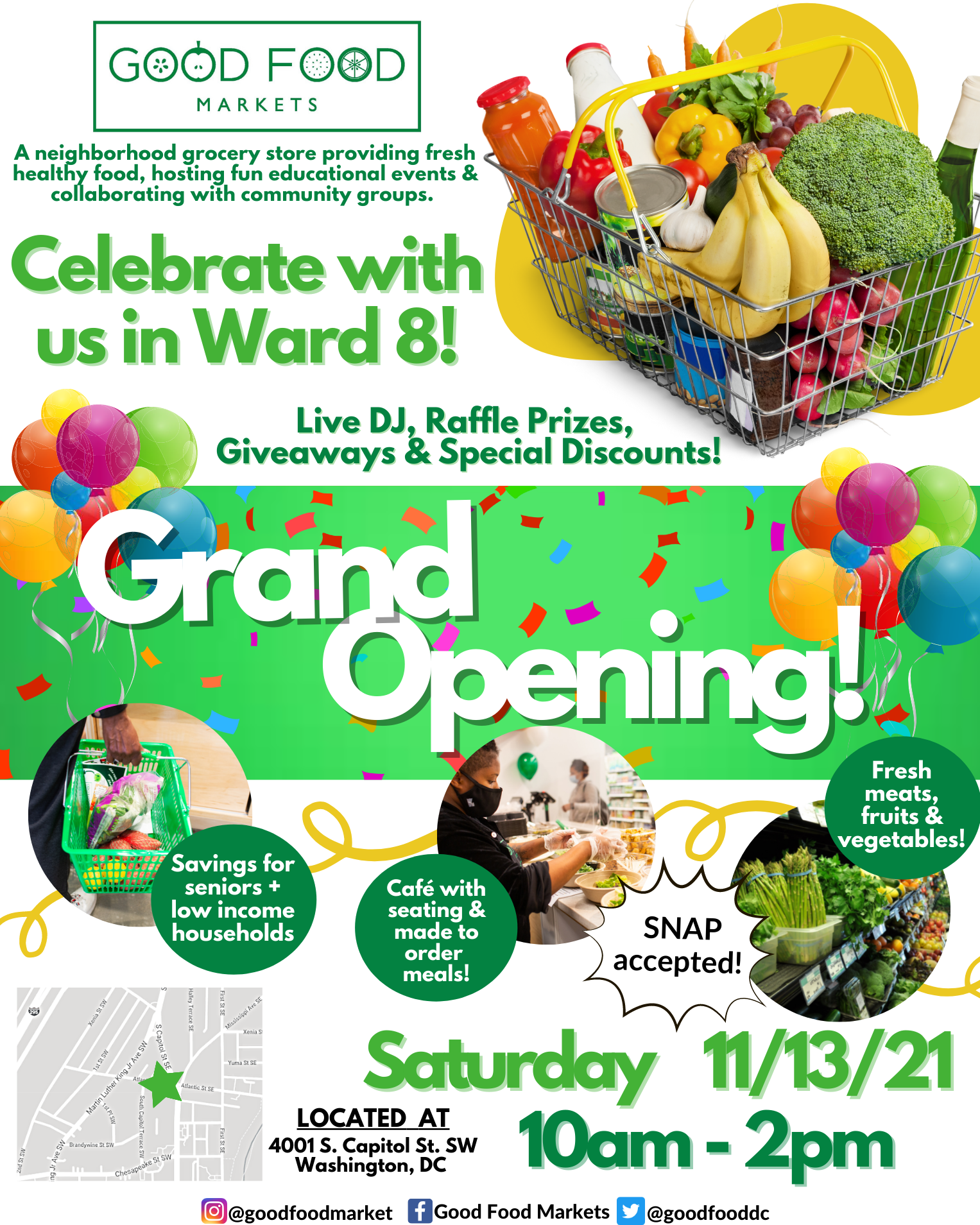 Good Food Market Grand Opening
Saturday November 13, 2021
10:00 am - 2:00 pm
Good Food Market
4001 South Capitol Street SW Washington D.C.
A Grand Opening ribbon-cutting celebration is scheduled for 11:30 am on Saturday, November 13. The event is expected to feature remarks by Mayor Bowser; Ward 8 Councilmember Trayon White, Sr.; Deputy Mayor for Planning and Economic Development John Falcicchio; Bellevue Neighborhood Citizens Association President Kemi Morten; and ANC 8D Chair Monique Diop.
Good Food Markets offers fresh produce, essential groceries and freshly made prepared food, and it will house a dining room as well as a community room for meetings. A full-service cafe at the Bellevue store will begin operating in the new year. When the cafe opens, total employment for the store is estimated at 15 people.
The store will also host health education events for adults and children, and partner with community organizations to provide residents with tools to stay healthy. Other Good Food Markets locations have hosted more than 400 such programs since 2015. Throughout the pandemic, Good Food Markets has provided emergency food to nonprofits and delivered more than 540,000 meals worth of groceries in DC, Maryland, and Virginia.
"Good Food Markets in Ward 8 is the collective effort of more than 30 individuals and organizations over the past five years," said Philip Sambol, Good Food Markets' executive director. "All have contributed to a food access vision beyond just fresh produce and healthy food. With the meeting room, café, and a wealth of organizations active in the neighborhood, Good Food Markets can become a space to gather, share and contribute to the community."