Berry Simple Farm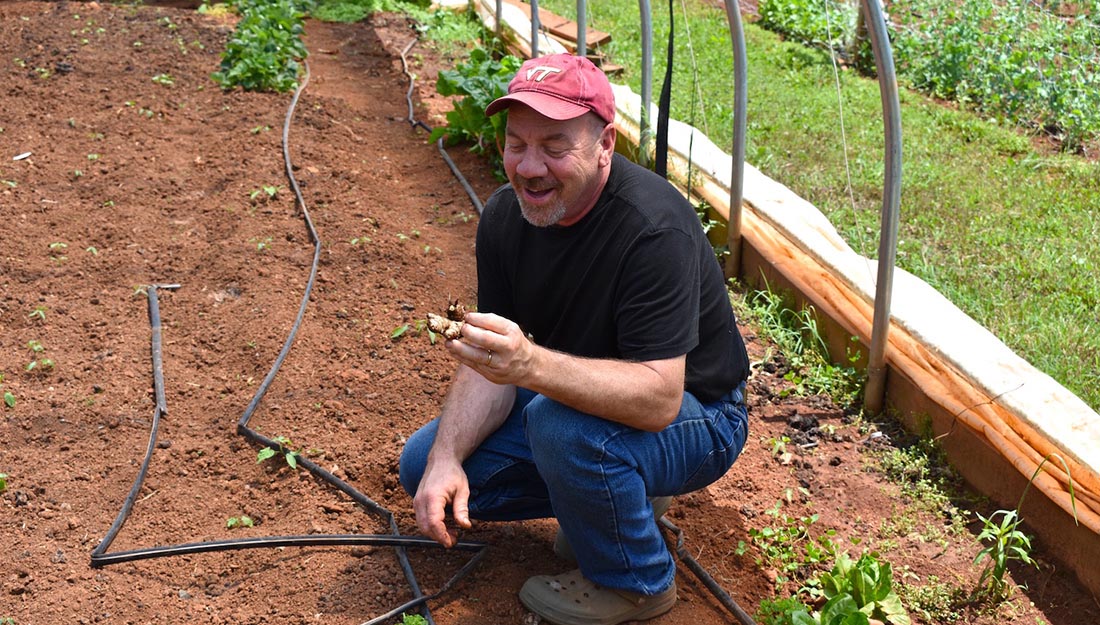 Berry Simple Farm is not your average produce farm. Compared to more traditional field to fork operations, Berry Simple Farm is quite small. Tucked away on the edge of a rural development, Berry Simple Farm is made up of 3-acre area of land in Bealeton, Virginia. The owner of Berry Simple Farm, Rick Crofford, is a part-time farmer who works full-time as an Environment Manager for the government. Rick is a self-proclaimed "hobby farmer" who turned his backyard into a productive micro-farm for specialty produce that also serves as a research farm for aspiring farmers and gardeners.
Farming is rooted in family life for Rick, who grew up visiting his Grandpa's vegetable farm, later to be his uncle's dairy farm in Ohio. Rick studied agriculture as a Dairy Science major and then went on to work as a Breeding Technician before he made the transition to becoming an Environment Manager for the government, where he now works to oversee and protect our local watershed and land. In 2001, Rick his wife, and their 4 children moved to their current home on 7-acres of land in Fauquier County, which is a piece of a former corn farm that supplied feed to the largest dairy farm in the area. Over the course of a few years, a little under half of the property was tilled and turned into rows of berry plants and small vegetable fields adjacent to the family home.
By definition, the operations is a micro-farm, or place of small-scale farming in a suburban area on less than 5 acres of land. Berry Simple Farm is organized into well-maintained and small fields of flourishing garden beds with two hoop houses and an open-air packing shed that is equipped with a washing station, industrial table, and refrigerators that keep crops fresh until distribution time. The cash crops of the farm are blueberries and asparagus, with 1/4 acre of early variety blueberry bushes, 1/4 acre of heirloom asparagus, following by 1/8 acre of heirloom fingerling potatoes, which are primarily sold to 4P Foods. Rick employs the help of a resident farmer and former physician, Diana King and an intern, Tiffany Black, plus the part-time seasonal helpers for peak harvest time. Master Gardeners in-training from Virginia Tech oversee two fields and a hoop house, where they can apply their education in the art and science of gardening. Rick is experimenting with a field of Paw Paw Trees right now with hopes of processing and selling as pulps for health drinks and baking. Given the demands of his full-time work hours, Rick opts to farm for business only in the spring and summer months, and turns the fields over to his residential farmer and volunteers to continue their hands-on education with fall plantings.
Sustainable farming methods are rooted in the practices of the micro-farm. While Berry Simple Farm is not certified organic, the farm follows environmentally sustainable growing techniques, such as integrated pest management (IPM), which is a holistic means to monitoring pests and rotating crop plantings to prevent bug outbreaks. The farm is a low-spray farm, which here means the blueberries are sprayed with an organic matter just once at the start of spring. The asparagus have not been sprayed this year, due to a successful decoy row, one row of asparagus that is left to fern, which attracts pests to habitat in the desirable bushy fronds rather than asparagus spears. In addition, Rick practices crop rotation and plants cover crops in off-season to enrich the soil with plant matter, composts waste, and uses composted horse manure as well as mulch to retain moisture in the soil. The fields are watered by means of a drip-irrigation system that helps to prevents water waste. Rick believes in recycling and reusing materials, turning one man's junk into another man's treasure. The fields are tilled with a 1980's Troy-Bilt tiller that Rick picked up from the dump and salvaged with a new engine.
Since connecting to a market in 2001, Berry Simple Farm has grown into a very productive micro-farm. As a farm partner with 4P Foods, Rick can continue as a high yielding small-scale farmer with market security by supplying spring crops to our share program. In fact, 90% of the premium asparagus harvested in 2017 went to 4P Foods members. Berry Simple Farm also feeds Rick's family, as well some friends, and volunteers. Crops also supplement the farm stands of other local farmers. Given the education and research fields on the farm, there is now a surplus of food. All excess food is donated to the local food banks. Last year, Berry Simple Farms donated $2,000 worth of produce to those in need. The main goal of Berry Simple Farm is to provide supplemental income to pay for the Crawford children's college tuition.
While a side-business by nature, Berry Simple Farm has become a valuable actor in helping to localize our food system, providing healthy and fresh food to the Crofford's immediate community, as well as into the greater DC-area through our weekly share program.