Happy Dirt (East Carolina Organics)
Durham, NC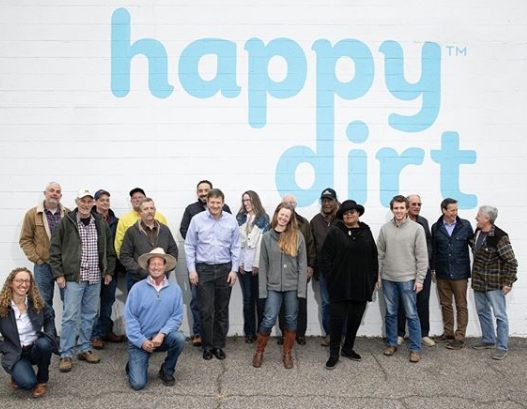 Happy Dirt (formerly East Carolina Organics) is a farmer-owned company based in Durham, North Carolina and founded in 2004. Similar to a cooperative (co-op), Happy Dirt works with a group of about 14 farmers to market and distribute wholesale organic produce to foodservice customers, retailers, and food hubs such as 4P Foods on the East Coast. They primarily purchase produce from small- and mid-scale farms and in so doing, share the stories of nature's heroes - pollinators, clean water, and sunshine - as utilized by the capable hands of the farmers. Their business model is based on authenticity and transparency - not only do they meet new partners through current relationships, they know all their farmers in person and are happy to greet them at the warehouse to check out operations. Farmers decide pricing and Happy Dirt's CEO owns just 1% more of the company than its farmer-owners.
Around 98% of the products that Happy Dirt sources are grown using organic methods, and most of them are Certified Organic. Their larger farm partners are all GAP (Good Agricultural Practices Certified) or higher. The majority of products come from NC but Happy Dirt is expanding its sourcing to farms SC, GA, and VA. This diverse geography offers prolonged growing seasons and rich harvests of traditional southern vegetables, including kale, collard greens, sweet potatoes, okra, root vegetables, and summer and winter squash.
Several of Happy Dirt's partners also grow regional specialties like persimmons and pecans. The largest family farm they work with grows and hand-prunes persimmon trees on land formerly used to grow tobacco, and is the first NC farm to make $1M on sweet potatoes. Having such a broad partnership base also allows Happy Dirt to meet seasonal weather fluctuations with resilience and flexibility. For example, when a particular growing region becomes too hot, such as eastern NC - the company can source from partner-growers in the western part of the state where it's cooler.
Our partnership with a mission-aligned organization like Happy Dirt ties into 4P Foods' regional model and regional food system concept. This is a relationship that is mutually beneficial for small farmers, local economies, and leaves a smaller carbon footprint. By building a regional network of farmers and food producers, we too can extend the growing season and thus the variety of produce in your 4P bags.