Radical Roots Community Farm
Keezletown, VA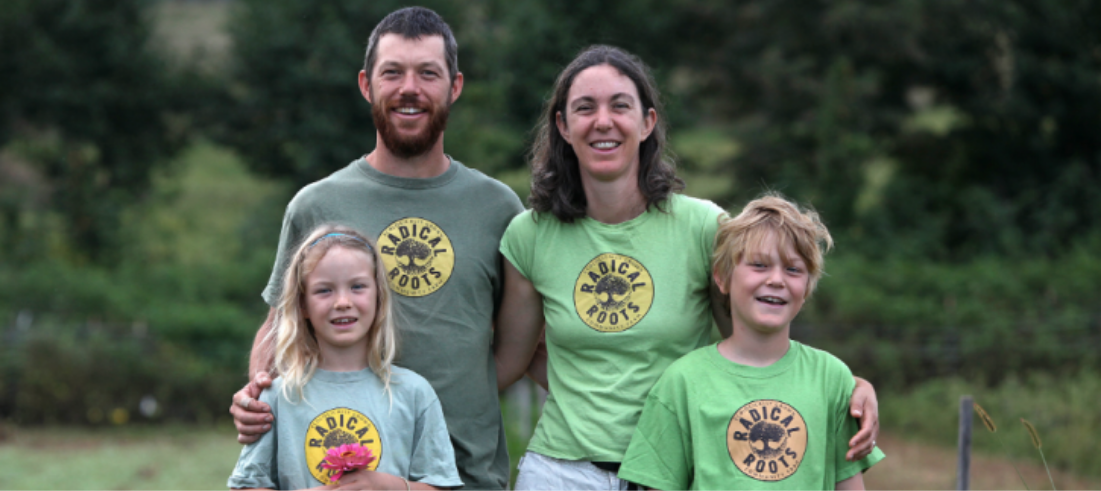 When Dave and Lee purchased their farm in 2003, it was a hayfield with just a few species of grass. Today, it is a thriving, Certified Organic produce farm, and home to their family. Their swales, or low, moist tracts of land that help manage water runoff and filter pollutants, and plethora of fruit trees and other perennials offer a continual habitat for birds and beneficial insects, not to mention make for excellent soil for growing food!
Today, Radical Roots Community Farm offers an 85-member CSA program in Harrisonburg and Charlottesville, is an anchor vendor at farmers markets in both cities, and participates in countless plant sales and events throughout Virginia. In 2012, the farm became Certified Organic, and their wholesale business continues to grow each year due in part to this certification. While Certified Organic brings many economic benefits to their business, the most important part for Dave and Lee is the opportunity to educate consumers about the importance of growing organic. Radical Root's entire supply chain is organic, so it is not just about the practices they use on the farm. They source organic seeds, potting mix, and amendments, and support organic agriculture throughout the growing process. The organic label allows Dave and Lee to engage with more people and share the importance of their work.
In addition to growing stellar produce, Dave and Lee also operate a yearly apprenticeship program to educate the next generation of farmers. They commit to five apprentices for an eight-month season, where aspiring farmers get on-hands experience and farm education. Many of their apprentices come with little or no gardening experience, but leave with a whole new worldview. In addition, the farm offers over 30 farm tours to schools and other large groups throughout the year.
A straw bale studio that the family once called home has transformed into the center of the farm, with housing and studying facilities for apprentices and sheltered outdoor spaces for tools and produce handling. The past several years have seen heavy investment in perennial production, such as cherries, apples, and pears. The O'Neill's also built their own home, made from recycled produce pallets that were chipped up into insulated concrete forms. While it may seem that they are masters of all they survey, Lee and Dave remain committed to learning, and teaching, and evolving; the farm itself seems like a superorganism that is constantly evolving and changing, but remains cohesive and unified.
Radical Roots Community Farm is a Local Food Hub partner farm. We are proud to partner with Local Food Hub to connect small family farmers in Virginia to 4P customers.
Profile and photo courtesy of Local Food Hub.