Saunders Brothers Orchard
Piney River, VA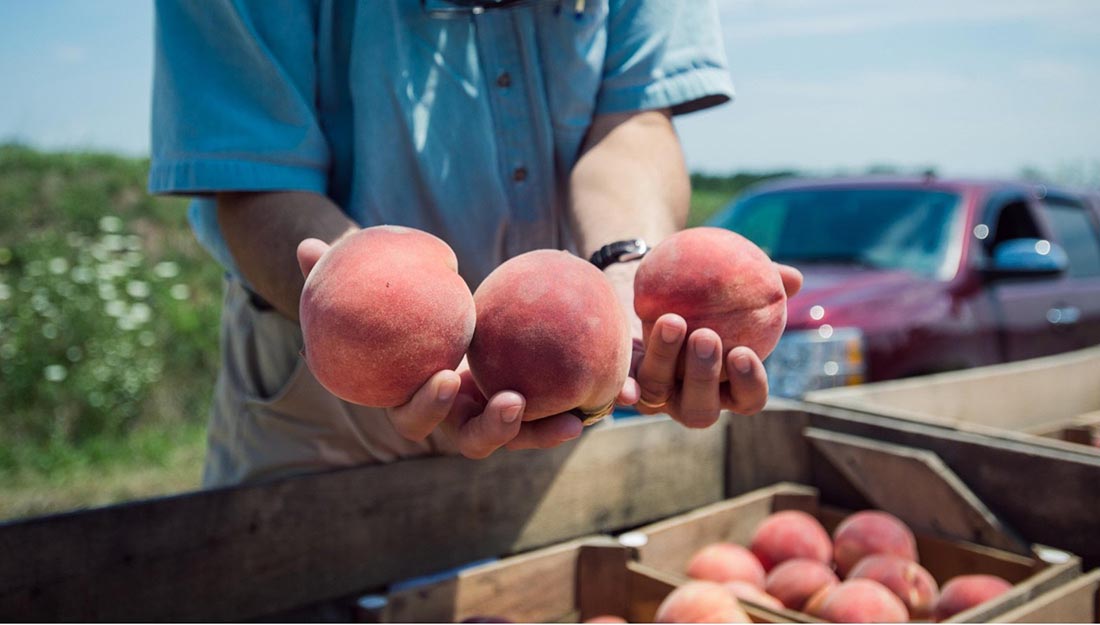 Saunders Brothers Orchard is a third generation family farm in Piney River, VA. The farm began in 1915 as a cattle farm when 5 brothers decided to pool their resources and form a partnership. With the coming of the Great Depression, money became tight and the brothers discovered that peaches were selling for good prices. Although most were forced to take jobs elsewhere, three brothers maintained the family farm through farm helpers and sharecroppers, pitching in themselves during harvest time.
Eventually, the farm was left in the hands of the son of one of the original brothers who still oversees his family farm today, though from a distance. Four of his sons have taken on the running of the farm along with several others that have joined the team over the years and are part of the Saunders Brothers Family.
Jim Saunders met us at the farmers market to show us around the property and explain some of the ins and outs of growing peaches in Virginia. Jim explained that the #1 priority at Saunders Brothers is growing the best tasting fruit possible and passing on that experience to their customers. Though newer varieties are available and have become popular for their ease of growing, they choose not to switch because they know that in doing so they will lose out on the flavor their customers have come to expect from their fruit.
Saunders Brothers grows multiple varieties of peaches, apples, nectarines and Asian pears and are very particular about when each variety is harvested at the peak of ripeness. "These peaches aren't meant for the supermarket", says Jim - explaining that he has never once tasted a good peach that was purchased from a supermarket chain.
The clay soil along the hillsides of the Shenandoah make for great flavor and they have specifically tested and chosen fruit varieties that produce the best tasting fruit in their soil. Jim explained that they have a test garden where his brother Bennett plants every possible variety of fruit that they might grow before scaling up. Only those varieties that do well and produce the best fruit are allowed a place on their hillside orchard. They specialize in Pink Lady and Gold Rush apples, plus their own variety, Piney River Gold.
Saunders Brothers is a Local Food Hub partner farm. We are proud to partner with Local Food Hub to connect small family farmers in Virginia to 4P customers.