Superfood Farms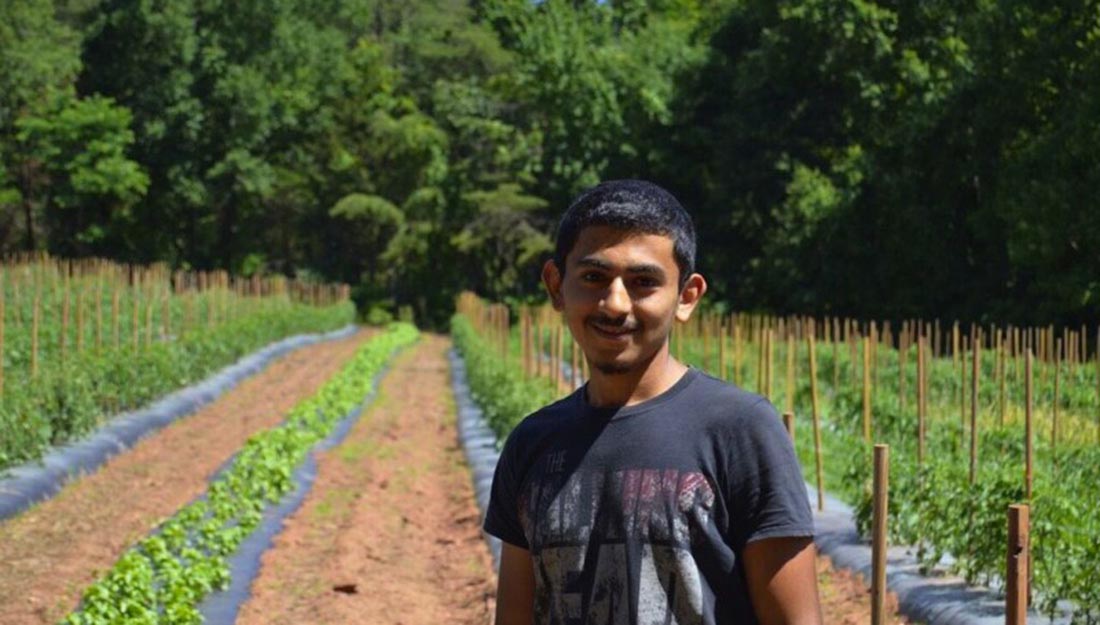 Superfood Farms is an 80-acre specialty produce farm in Culpeper, VA that is owned and operated by the Ayad Family. When the Ayads emigrated to the US from Egypt nearly twenty years ago, establishing a family farm was a goal that came to fruition in 2011. The 4P team met with Raymon, the eldest son, who gave the 4P team a tour of the operations one sunny summer afternoon.
In Egypt, the Ayads lived in a rural farming community where they subsided on a family farm, and grew vegetables like tomatoes and fruits like citrus trees. After the family settled in to Culpeper County Virginia, land became available and Superfood Farms was established in 2012.
Initially, the farm was 19-acres of land. With the growth of production and local sales, the Ayads acquired a 70-acre lot two miles down the road. At the time of our farm tour, the just purchased fields had already been prepped and planted with watermelons to be sold late-summer.
4P Foods began a partnership with Superfood Farms in 2017. We are excited to work with the Ayad family to coordinate fall crops for our food hub members and link the quality produce at Superfoods to our market in the DC metropolitan area. Currently, Superfood's main business is Whole Foods Markets in the DMV area. The farm also sells directly to a handful of local restaurants, and sells plants, mums, and herbs at the local farmer's markets.
On the main 19-are property are 30 different tomato crops, including 12 varieties of cherry tomatoes grown both in the field and in a greenhouse. Superfood Farms grows a large variety of specialty produce, including cabbage, lettuces, spring onions, squash, cucumber, eggplant, kale, purple cauliflower, watermelon, celery, and herbs. Pictured below is Ayad's mother alongside hired farm workers tending squash.
The focus of the growing operation is to produce quality harvest while sustaining the natural ecology of the land. As you walk through the rows upon rows of vegetation, you will see native plants growing alongside cash crops. Sprouting up among spring onions and lettuces are lush wildflowers. In part, this is due to the high volume of production at this small family operation.
Overall, the wildflowers and weeds are intentionally left in order to attract beneficial insects, such as, pollinators, which will help to yield more fruit. In addition to pollinator plants, Superfood Farms practices bee-keeping to pollinate crops, such as tomatoes, cucumbers, and squash. Located along a shady, tree-lined edge of the property next to the fields are the hives.
Superfood Farms actively practices organic and sustainable farming methods. The farm is GAP-certified (Good Agriculture Practices), which is a highly regarded, highly involved voluntary audit for agriculture food-safety practices that is approved by the USDA. While not USDA Certified Organic, Superfood Farms is working through the multiple year-long process of attaining organic certification. Holistic and environmentally-based farming methods include organic crop cultivation, natural pesticides, and natural methods of enhancing soil, such as crop rotation, cover crops and composting.
Raymon is the eldest of three children and has the best English language skills in the family. For this reason, he is the point of contact for all written business correspondences and marketplace interactions, such as submitting inventory for orders and certification applications. When not in the fields alongside his parents and younger siblings, Raymon attends the local high school and is currently applying to medical school to become a doctor. When asked what Raymon is most proud of as a farmer, he replied, "being able to make a living and sustain his family."
If you have met the 4P team or read our team bios, then you know we love to talk cooking and to ask what about your favorite vegetable. Raymon's favorite veggie? Cherry tomatoes!
Superfoods Farms is a Local Food Hub partner farm. We are proud to partner with Local Food Hub to connect small family farmers in Virginia to 4P customers.
Photos courtesy of Local Food Hub.