Timeless Natural Food
Ulm, Montana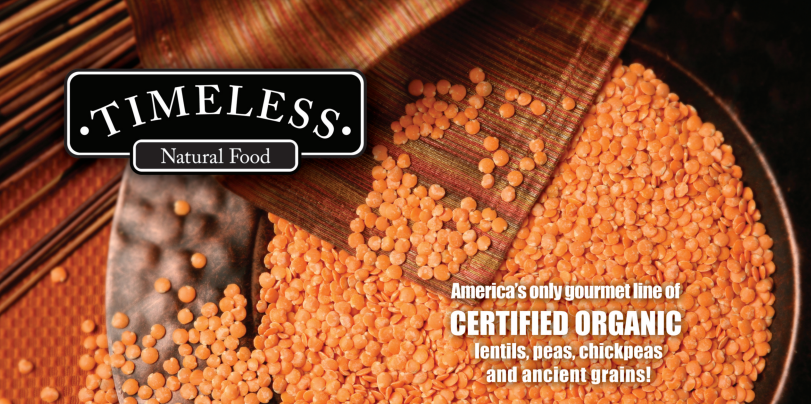 Timeless Natural Foods was founded in 1987 by four organic farmers, Bud Barta, Jim Barngrover, Tom Hastings, and David Oien, who were at the time some of the first organic farmers in Central Montana. Located where the Great Plains of America unfold from the Rocky Mountains into what is known as the Golden Triangle lies Montana's most productive agricultural area. Here the cool and dry environment is ideal for producing high-quality, certified organic cereal grains, pulse crops, and edible seeds. The hallmark of Timeless is unique and highly nutritious heirloom specialty grains.
In 1994, the business had grown, and they needed more space than was available on David Oien's farm. The solution was moving to an empty grain elevator in Conrad, Montana, and they needed money to make the move. The Timeless team recalls, "The local banks had only two questions: 'What's a lentil?' and 'What's organic food?' And only one response: 'No, thanks!'' A dozen friends and family-some farmers and some friends of farmers- came to the rescue in the form of investors. The supporters of family farms and healthy food made moving to Conrad possible and allowed Timeless to grow.
Today, the company has expanded again to include an updated seed processing facility in Ulm, Montana. Starting with just four farmers, Timeless now supports dozens of organic family farmers throughout Montana. They provide soil-building crop rotation options and new markets for the quality crops farmers are growing. To learn more about the regenerative agriculture practices used by Timeless Foods, visit patagonia.com.
4P Foods is excited to offer the award-winning, 100% organic bulk grains from this small, farmer-owned company to our customers. Shop for Timeless Natural Food's Black Beluga® Lentils, Purple Prairie™ Barley, Black Kabuli™ Chickpeas, Harvest Gold Lentils, French Green Lentils, and Farro for your next meal!