Triple J Organics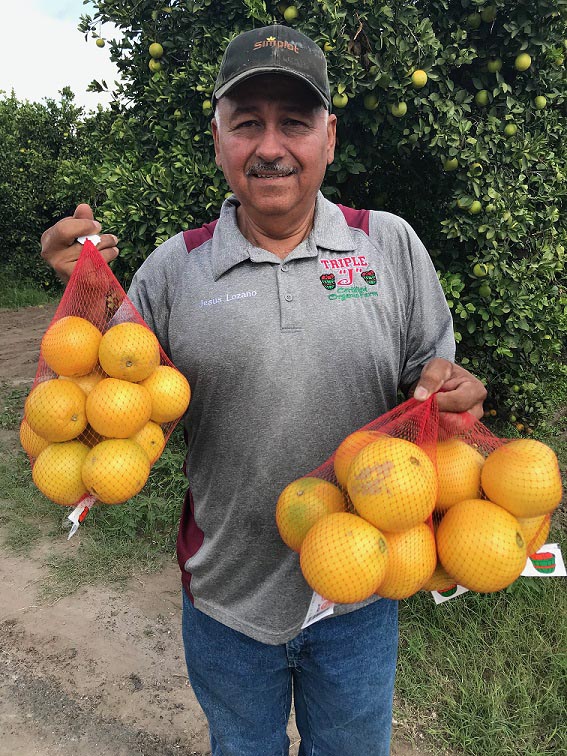 In 1983, a devastating freeze wiped out nearly 75% of the citrus groves in Rio Grande Valley, the premier citrus region of Texas. As citrus farmers left the business, Jesse (Jesus) Lozano sought opportunity as an aspiring farmer. With the help of his father and father-in-law, Jesse purchased an abandoned 9-acre lot near Mission, Texas and began grafting rows of grapefruit and orange trees by hand, bringing new life to the freeze damaged trees. Triple J Organics is named after Jesse, Jesus Lozano, and José Macias, who together founded the Certified Organic citrus farm over twenty years ago.
Over the span of several years, the citrus trees established flower buds on the scion grafted onto the host tree trunks, and the Lozanos waited in hope for the trees to produce fruit. The time span for citrus trees to produce fruit after grafting is about four years. During this period, Jesse grew watermelon to sell around the greater-Mission area to fund the beginnings of the business and buy farm equipment. When the grapefruit trees finally developed to a good maturity stage, Triple J Organics was established with its first commercial order in 1995.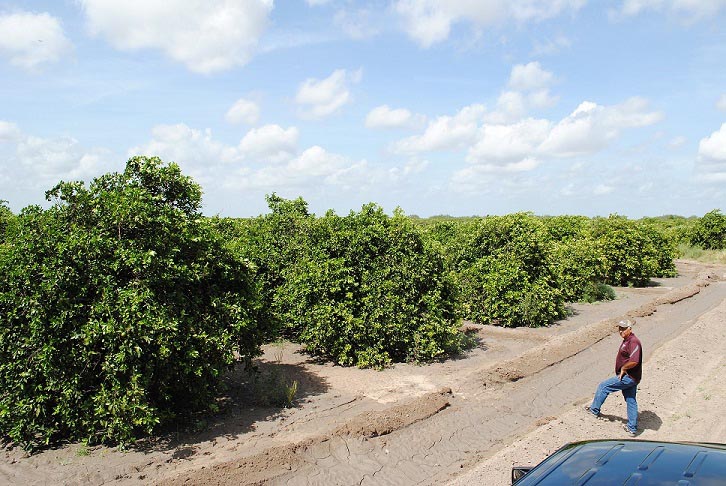 Dedication and perseverance are a theme at Triple J Organics farm. As a new farm, it took years to establish Triple J Organics as a successful business. Like many first-generation farmers, Jesse had a full-time job during the early years of the farm, and he spent weeknight evenings working on the grove in the late, Texas sunlight, irrigating trees and tending to the crops. Prior to owning his own farm, Jesse spent his post-high school years working alongside family members as a migrant farm worker in Florida, California, Illinois, North and South Dakota, and southern Texas.
Fruit farming is both a lifestyle and a passion to the Lozanos, who are self-defined "veterans of the industry." Every family member helps on the farm, from uncles to cousins, and even both mothers of Jesse and his wife, Janie (Juanita), who still pick and pack what they are able. The small family farm grew gradually over time and in 2000, they built a packing house in accordance with Food Safety Requirements a defining moment for Triple J Organics as an established commercial business.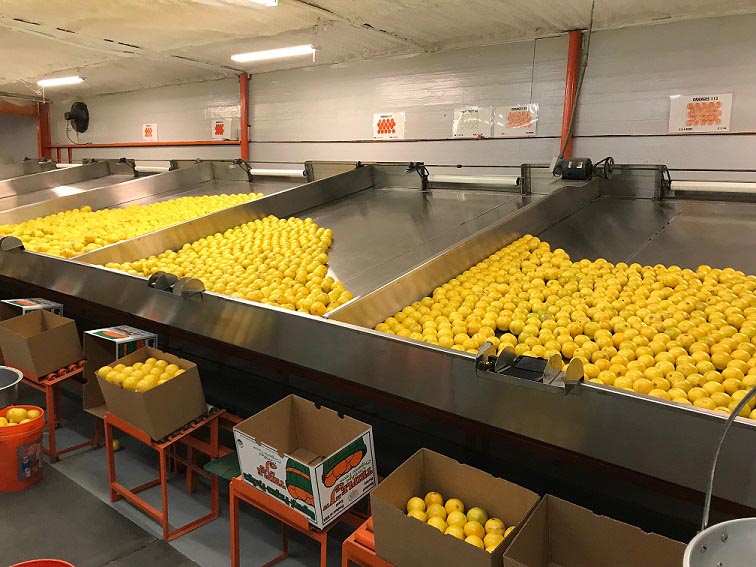 Triple J Organics is a USDA Certified Organic citrus farm that now encompasses more than 40 acres. The original nine acre plot is mainly dedicated to oranges, with three acres of grapefruit trees and several tangerine trees. Jesse and his wife, Janie, also own a 15 acre lot of orange trees, plus four additional groves that cultivate both grapefruit and oranges. While 24 acres are farmer owned, the Lozanos lease and farm six additional citrus groves. Fruit is maintained with natural horticultural mineral oils that act as fungicides and insecticides, and organic sulfur powder that is applied as a natural pesticide in the spring to prevent bugs from attacking flower blooms.
The Certified Organic products applied to the trees allow for organic microorganisms to build natural fertilizers in the soil, which creates a much more juicy and more sweet fruit, as compared to conventionally grown. Texas grapefruit in particular are highly sought out for the pink, sweet flesh that is unique to the terroir. In fact, many customers have said that Triple J Organics are the best grapefruit they have ever had!
We spoke with Mike Lozano, son of Jesse and the Food Safety Coordinator of Triple J Organics. Mike grew up helping on the family farm but left to study education at Texas A&M University and became a teacher. In 2016, Mike left his job to help Jesse achieve a new growth strategy. Mike completed the Food Safety Manager Training Certification and got the farm Food Safety Certified. A year later, Triple J Organics became Global Food Safety Initiative recognized (GFSI), a rigorous certification program. Triple J Organics has had opportunities to go corporate, however, they wish to remain an independent, family owned business.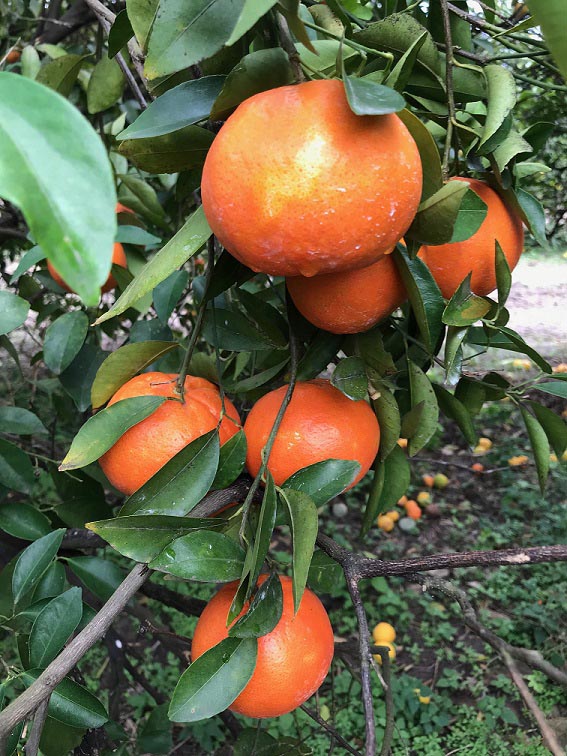 The farm sells at one local farmers market, but the region is flooded with locally grown citrus and competes with Certified Organic oranges from Florida, California and imported citrus from Mexico that are priced at a much lower cost, lowering the market value in Texas. This is the first year that Triple J Organics has broken away from distributing to large-scale buyers in order to sell directly to wholesale customers for a more fair price and for the sake of establishing the farm name. Triple J Organics appreciates the opportunity to supply our region with naturally grown, Certified Organic citrus through their new partnership with 4P FOODS.
Fun fact: Rio Star Texas Grapefruit is similar to the well loved Ruby Red Grapefruit, but was rebranded to help distinguish Texas citrus and re-establish farms after the freeze of 1983. Look for Certified Organic Rio Star Texas Grapefruit and Mars Oranges available in your 4P bags during the winter season.