Vanguard Ranch
Gordonsville, VA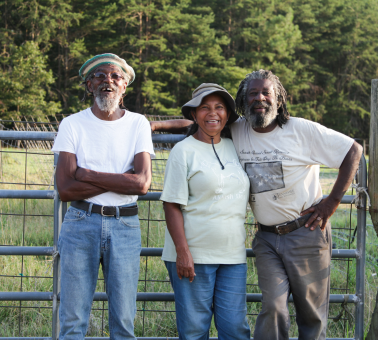 Renard and Chinette Turner of Vanguard Ranch Natural Gourmet in Louisa County, VA believe that "farming is an act of liberation." Seeking a more sustainable, self-sufficient lifestyle, they left D.C. and moved to the countryside to start their farm in 1995.
Vanguard Ranch Ltd. is a small, diversified family farm. Owned by husband and wife Renard and Chinette Turner and assisted by Richard Yates (all senior citizens, by the way!), they are committed to providing the highest quality organically grown product and food products.
Certified Naturally Grown (which has nearly identical requirements as USDA Organic but uses a peer-to-peer certification system), the Turners grow organic, heirloom vegetables and herbs. Vanguard Ranch's "A Taste of Africa" is an on-farm production growing vegetables well-known in African cuisines. They look forward to working with 4P Foods in this exciting new adventure, which will bring you vegetables like amara (Ethiopian kale) and garden eggs (African eggplant).
Vanguard Ranch also raises several kinds of animals, all of which are tended naturally and allowed to range freely, resulting in high-quality, delicious products like their famous goat burgers and kabobs. They breed and raise myotonic meat goats, including their very own line called Bangus. While myotonic goats are well-known for their "fainting" condition, they're actually a landrace breed that flourishes in Virginia. In addition to goats, they raise squabs, domestic pigeons with rich, delicate meat like the dark meat of chicken.