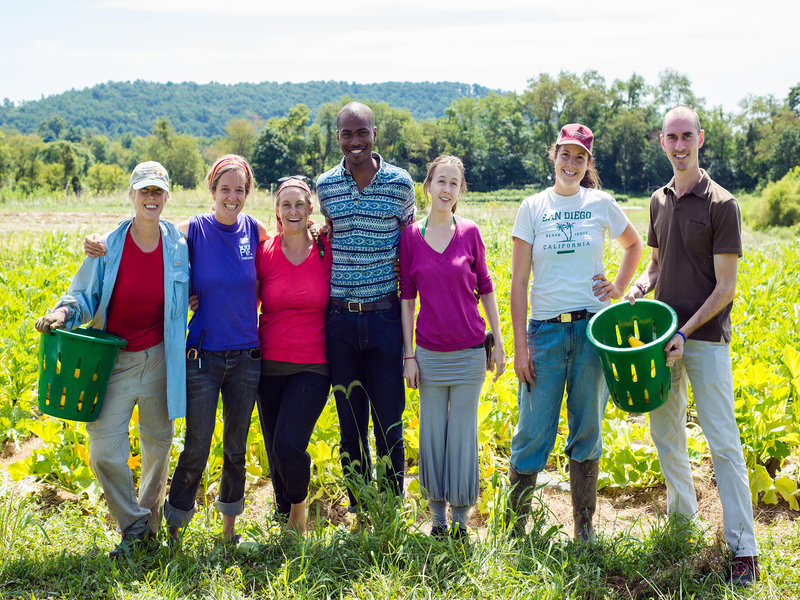 10 Stunning Farms to Visit in Virginia and Maryland
July 30, 2021 by 4P Foods
Summer is a grape time to get outside and visit your local farm. Check out this smorgasbord of U-Pick and agritourism options with our 4P Partners. From chilling with the chickens to a raspberry picking outing, there's something here for every member of the family.
Virginia
Agriberry Farm: Come out to visit Agriberry Farm and you can pick raspberries and blackberries in the fields. Spots are limited! On Saturdays, you can also buy all your other favorites fresh from the field at their Farm Stand.
Dickie Brothers Orchard: Experience nature's beauty and support local agriculture while making lifelong memories by picking your own apples (when apples are ripe) at Dickie Brothers Orchard!
J&L Farm - Plan a day on the farm by joining a guided walking farm tour led by Farmer Jordan Green. Learn how they raise their animals and why it's so much better for the planet than conventional approaches. It's an event the entire family will enjoy! Don't forget to check out the on-farm store -- stocked with a full selection of pasture-raised meats, eggs, and more!
Living Pastures - Farm store coming soon!
Locksley's Cheese/The Ag District: Ready for a road trip? Visit the Ag District: a beautiful gathering spot that houses a tasting room, creamery, kitchen, and brick oven. Have a delicious meal and pair it with wines made from Virginia's native grape. The Ag District is home to three thriving food businesses: Chrysalis Vineyards, Little River Bakehouse, and 4P Partner, Locksley Farmstead Cheese Co.
Messicks Farm Market: On a mission to provide fresh, healthy, local foods at a fair price, Messick's Farm Market invites you and your friends into their fields to enjoy a pick-your-own experience. Once you've filled your baskets with fresh produce and flowers, head over to the café to top off the day with homemade frozen custard! View the event calendar.
Saunders Brothers Orchard: Located in beautiful Nelson County, Virginia, Saunders Brothers grows quality peaches, apples, cherries, flowering shrubs, and more! Find these products at their retail Farm Market, located just five miles from the orchard in Piney River, VA. Stop by and stock up on local produce, farm-raised beef and pork, and a wide variety of jams, jellies, and pickles. While you're there, try their mouth-watering peach ice cream, and visit the onsite farm antique museum!
Virginia Bison Co: Grab some friends and head to Virginia Bison Co. in Culpeper, VA to do some shopping, explore the farm, or chat with the friendly staff. The farm store is open daily and sells a full selection of bison meat and leather goods, such as bracelets and wallets.
Whiffletree Farm: Come out to WhiffleTree's Farm Store to chat with the farmers, visit the animals, enjoy the fresh air, and stock up on eggs, snacks, gear, and more! Oh, and feel free to say hi to the happy chickens out and about!
Maryland
Firefly Farms: Located on Highway 219, minutes north of Deep Creek Lake, MD, FireFly Farm's market is your one-stop destination for delicious cheese, charcuterie, specialty food, and drink items. From cute and humble cheese boards for two to an abundant spread sure to impress the entire family, FireFly has you covered.