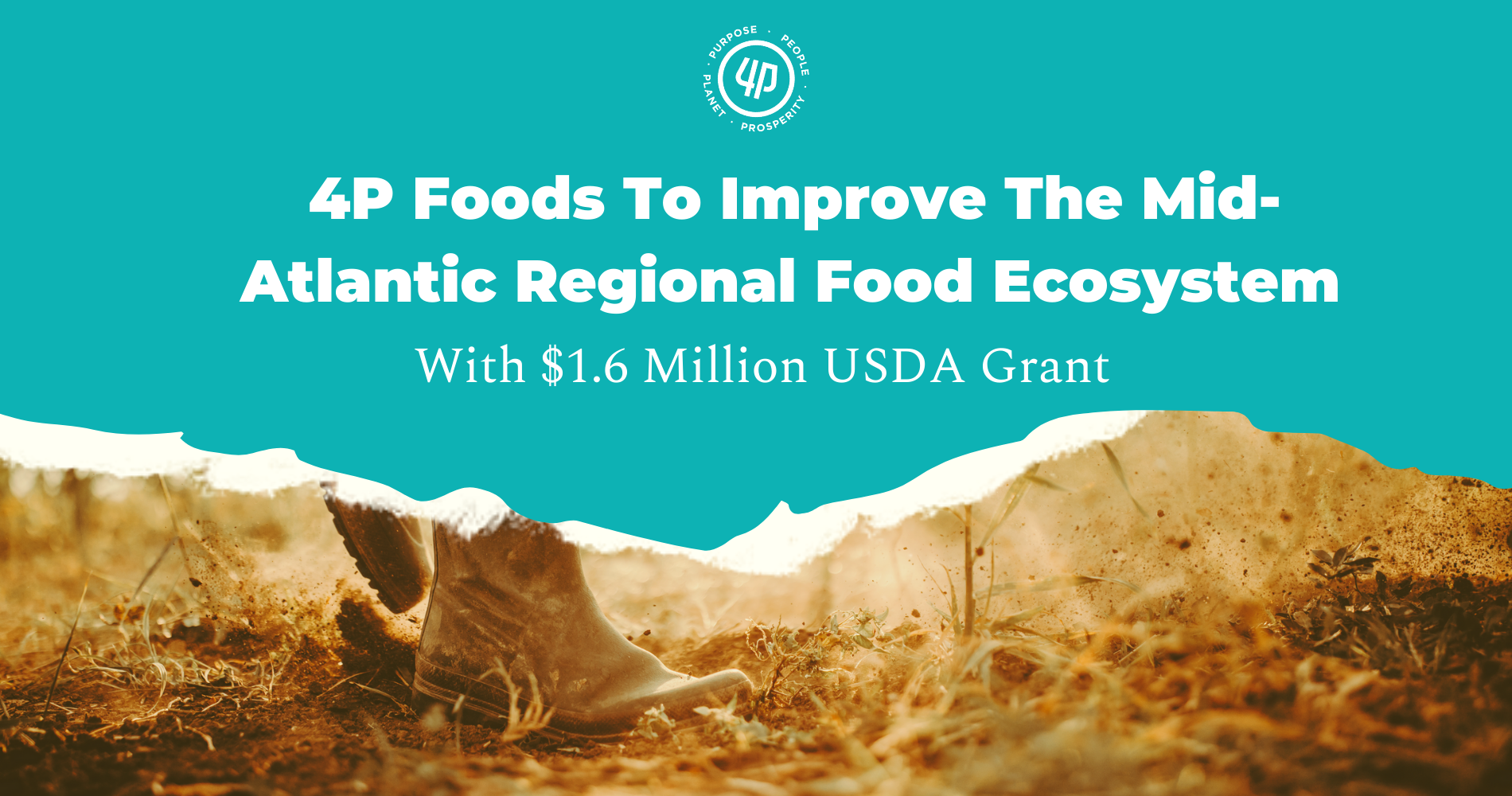 4P Foods Awarded $1.6 Million USDA Grant To Improve the Mid-Atlantic Regional Food Ecosystem
March 31, 2023 by 4P Foods
Warrenton, Va. (March 31, 2023) — 4P Foods is the recipient of a U.S. Department of Agriculture (USDA) Regional Food System Partnership grant in the amount of $992,152 matched by $614,500 in partner, in-kind, and philanthropic funding including $264,500 from the Bainum Family Foundation, The Agua Fund, and the Danville Regional Foundation. The total awarded funds of $1.6 million support 4P Foods' Regional Food Ecosystem for the Mid-Atlantic (RFEMA) project to build essential infrastructure to scale regional food systems and improve food access. The RFEMA project expands 4P Foods' commitment to building a regional network of independent farmers, businesses, institutions, and consumers.
"A number of stakeholders and the federal government realize the need for an alternative to linear, extractive food supply chains and are looking for coalitions, networks, and partnerships building those alternatives," says Tom McDougall, CEO & Founder, 4P Foods. "Regional, regenerative supply webs are being developed by organizations like ours. 4P Foods has connected with a large network of partners, and we are now being given the opportunity to prove and scale the viability of these efforts."
The RFEMA project addresses the challenges of scale that prevent individual food ecosystem producers, food hubs, aggregators, and processors from ramping up the supply of local and regional food to meet rapidly growing food demands. This strategic investment will create economies of scale in the regional food ecosystem while connecting local farmers to otherwise inaccessible wholesale and institutional markets.
The design of this project will leverage existing regional partnerships to connect local producers with institutional buyers and implement system-wide inventory and management solutions. The project will support scaling a regional food system in the Mid-Atlantic with technology enhancements, full product traceability, improvement of the regional transportation and logistics infrastructure necessary to scale throughout local/regional production from farm to customer, and replicate and expand the model to the Eastern Shore.
The USDA grant was awarded through the Regional Food System Partnerships (RFSP) program, which supports partnerships connecting public and private resources developing local or regional food systems. RFSP focuses on efforts building resilient regional food systems.
To accomplish this objective, 4P Foods is partnering with:
Browntown Farms, a multigenerational family farm in Warfield, VA with a vision of expanding their operation and working with other farmers in their community.
Dreaming Out Loud, a DC-based 501(c)3 non profit organization building a healthy, equitable food system for the DC Metro region's marginalized communities, by rebuilding urban, community-based food systems.
Franklin Sustainable Farms, a collective of farmers in the Amish community of Franklin County Pennsylvania, who have come together as an agricultural cooperative where they share resources in order to meet common needs.
The Southside Virginia Vegetable and Fruit Grower's Association, an Association that works to promote and encourage improvements in production and marketing of local produce and support the Southside community.
Local Environmental Agriculture Project (LEAP), a Roanoke-based 501(c)3 non profit organization whose mission is to develop, support, and maintain a sustainable food system in the greater Roanoke region.
Potomac Sprout Company, a sprout farm and potential aggregation point for the regional food ecosystem in Central and Western Maryland and Southern Pennsylvania.
Future Harvest (The Chesapeake Alliance for Sustainable Agriculture), a non profit organization that focuses on farmer-to-farmer education, beginner farmer training, and building community, awareness, and collaboration among farmers, food businesses, policymakers, and consumers.
To qualify for the grant, 4P Foods secured 25% in matching funds from key philanthropic partners and supporters that include:
To learn more about 4P Foods and its work in hunger relief, food access, and building a new food system in the Mid-Atlantic, visit www.4PFoods.com.
# # #
About 4P Foods
Since 2014, 4P Foods delivers responsibly-sourced food from independent farmers through its online grocery store, wholesale business operations, and institutional partnerships. With a network of 600 local farmsteads, 4P Foods helps make sustainably grown and ethically raised food accessible to residences, businesses, and school systems across Virginia, Maryland, North Carolina, and Washington, D.C. Each month, 4P Foods delivers nearly 7,500 lbs of food to underserved communities through six community partners. Learn more about 4P Foods mission, impact, and work at 4PFoods.com.
About Bainum Family Foundation
For more than five decades, the Bainum Family Foundation has invested in the well-being of children and families, evolving our strategy over the years to reflect new thinking and learning and changing community needs. They are striving to build an equitable society that supports all children and families, particularly those who have been systematically excluded from power, resources and opportunity because of poverty and racism. To learn more about the Bainum Family Foundation, please visit www.bainumfdn.org
About The Agua Fund
The Agua Fund is a private foundation based in Washington, D.C. They strive to improve quality of life through support for efforts to protect the natural environment, help the disadvantaged, give voice to the underserved, and promote democratic values and full participation in civic life. To learn more about the Agua Fund, please visit www.aguafund.org
About Danville Regional Foundation
The Danville Regional Foundation (DRF) works to encourage revitalization and renewal in the Dan River Region. They do so by making long-term investments to improve education, economic vitality, community wellness, financial stability and civic capacity for citizens throughout the City of Danville, Virginia; Pittsylvania County, Virginia; and Caswell County, North Carolina. To learn more about the Danville Regional Foundation, please visit www.drfonline.org