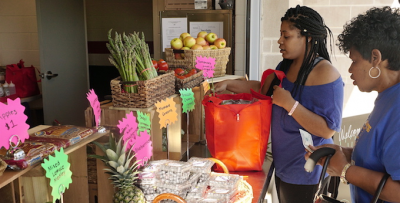 Nats Academy Increases Access To Nutrient-Dense, High Quality Food
June 09, 2018 by 4P Foods
On a rainy Wednesday in late April, the Field of Greens Market opened to the public at The Nationals Youth Baseball Academy in DC. Fresh locally-grown and organic produce from 4P Foods partnering farms overflowed in display bins set up on folding tables lining the atrium of the Nationals Youth Baseball Academy (Nats Academy) in Southeast Washington, DC. While the rain prevented the first CSA-style market held at the academy from setting up outside, it did not prevent the local community from coming inside to shop.
Fresh food is hard to come by east of the Anacostia River in Wards 7 and 8, the area home to the Nationals Youth Baseball Academy. In Wards 7 and 8, there are only 3 grocery stores to serve more than 148,000 residents. Driving miles to access fresh foods in other neighborhoods is not an option for residents, where nearly 50% of the community does not have access to a vehicle, and the commute to shop by public transportation is an unrealistic burden at best.
Twenty-seven percent of residents in Ward 7 and 1/3 of residents in Ward 8 live at the Federal poverty level, and the trend is only increasing, according to 2015 statistics gathered by the DCFPI. Without access to fresh food and affordable prices, it is a daily challenge for people to consume healthy food. In fact, the Field of Greens Market is the only year-round farmers market in Ward 7.
The Washington Nationals Youth Baseball Academy has partnered with 4P Foods and YMCA of Metropolitan Washington Food Programs to create a weekly CSA-style market selling shares of organic foods at an affordable price. The Nats Academy is a non-profit organization that provides academic enrichment programming for baseball and softball scholar-athletes in Wards 7 and 8. A collaborative learning center, the Nats Academy facilitates health programs that enrich the lives of the scholars as well as the greater community.
The YMCA of Metropolitan Washington Food Programs promotes health and community through inspired cooking classes. Each week, teachers from the YMCA Food Programs hold classes for nutritious meal planning in the teaching kitchen at the Nats Academy, often with food sourced from 4P Foods. In the YMCA cooking classes, community members prepare farm-to-table meals and go home with healthy meals to serve to their families. The YMCA Food Programs Team also hosts monthly community dinners, where a heart-healthy themed cooking class closes with a meal on the Nats Academy rooftop that overlooks the ball game at sunset. 4P Foods is proud to connect these programs to fresh, healthy ingredients from our network of local and regional family farms.
Walking through the Field of Greens Market, you can feel food as the community centerpiece. In fine weather, the market is held at the concession booth adjacent to the baseball field, where parents of scholar athletes watching the game, cooking class members, program staff, and the greater public can be found talking over fresh heads of lettuce, vine-ripened tomatoes, rainbow carrots, and more from that week's harvest from our farm partners. Later in the season, a portion of food will also come from the Nats Academy's own garden, the Field of Greens, located behind the baseball fields.
At the market, produce is sold by the bag, similar to 4Ps food subscription program, at a subsidized rate of $5 for the families of academy scholar athletes, families who participate in Supplemental Nutrition Assistance Program (SNAP), and local residents. While the typical concession stand serves high-calorie, processed food, the Nats Academy has turned their concession stand into a Community Supported Agriculture (CSA) to serve nutrient-dense and organic produce from 4P's network of farmers every week. This is local food with a purpose and food equity.
Thanks to the USDA's Community Food Project Grant, and our partnerships with The Washington Nationals Youth Baseball Academy and the YMCA of Metropolitan Washington, there is a new place to purchase fresh produce in Ward 7. The Field of Greens Market is open from 4:00- 7:30pm every Wednesday through August, and is already scheduled to return for opening day in 2019, rain or shine.
The Field of Greens Market has already seen terrific community support. "If you build it, they will come," echoes the famous phrase from the baseball film, Field of Dreams. 4P Foods is grateful for our community partners and for the opportunity to connect local residents with fresh organic produce.
Our mission at 4P Foods is to create a more just and equitable food system through partnerships with small family farms, nutrition-based organizations, and the continued support of our members. We believe all people should have access to high-quality, nutritious food. In fact, we are currently working towards modifying our weekly food share subscription model to soon be able to accept payments via SNAP benefits. We have plans to expand this food access program to an additional 10 to 20 locations throughout Wards 7 and 8 over the next three years.
In the news: WUSA9 visits the Field of Greens Market! Watch the video here reported by Diane Roberts.
To learn more about community programs at the Nats Academy, visit their website. For more information about Cooking & Food Programs at the YMCA of Metropolitan Washington, go to their website. To learn more about the movement to build equitable access to healthy lifestyle in DC, visit Don't Mute My Health. Read the connection of poverty and public health issues on No Kid Hungry's website.
Photos courtesy of Bryant Curry, Nationals Youth Baseball Academy.