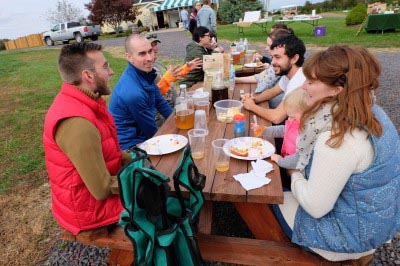 Successful Harvest Day Party at Bees and Trees Farm
October 28, 2015 by 4P Foods
On October 24th, the 4P Foods community gathered at Bees and Trees Farm in Elkwood, VA in celebration of Food Day. Our founder Tom made us delicious Mac 'n Cheese, pulled pork, and cole slaw. Everyone else brought a side dish or desert, ranging from Edna's borscht to Bonnie's apple crisp. It was a perfect fall day, and the trees around the farm were turning all shades of red, yellow and green. Teresa and Jeff Gregson, the owners of the farm, were great hosts to us, and we loved hearing Teresa speak about her beekeeping. Jeff took the kids on a hayride around the farm, and we got to meet their farm animals: 3 baby goats (Ariel, Sebastian and Flounder) a mule (Pippy Long Ears) and 5 cows, as well as 14 chickens.
We gathered to celebrate the food community that we're building- one where people eat local food that's good for them, farmers get a living wage and use sustainable environmental practices, and where we help alleviate the lack of fresh fruits and vegetables for those who can't get to them. Our Harvest Party was one of thousands of events that day, all centering around the theme of bringing people together to celebrate and enjoy real food and to push for improved food policies.
Bonnie, our MEW (Membership Experience Wizard) brought hula hoops and tried to teach the rest of us how to keep it swingin. Winston brought along his waffle maker, and made us fresh to order sweet potato waffles with blueberry maple syrup. We had a fire pit going to roast the s'mores that Teresa sells in her farm store, and we enjoyed picking our own pumpkins from the pumpkin patch.
Members were able to meet the faces behind where their local honey from last week's share came from, initiating a relationship between the producer and consumer. We hope that these parties provide opportunities for people to become more connected with their food, and be knowledgeable about where their food dollars are going to.
We are already excited for our next party, which will be on Earth Day. Stay tuned!