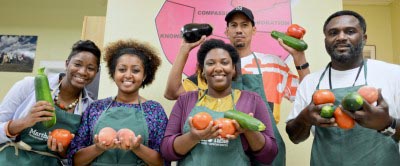 Locally-Sourced, Nutrient-Dense Food Donations to Martha's Table
September 26, 2014 by 4P Foods
Once a month we make a delivery of fresh fruits and vegetables from our family of farms to our partner organization Martha's Table. The amount donated is based on the number of deliveries we made that month. For every 10 shares we deliver, we donate 1 share to Martha's Table. So, if we delivered 100 shares, we deliver 10 to Martha's Table, if we deliver 1,000, 100 will go to Martha's Table. You get the gist.
We thought you might enjoy getting a sneak peak at what happens on one of these deliveries. We were greeted by an excited kitchen staff, let's just say there were a lot of "ooohhs and ahhhhs" as we pulled out the boxes of local goodies. A few of the favorites were the flavor-packed red tomatoes, beautiful purple egg plants and sweet ripe peaches straight from our family of farms.
Martha's table has a mission not only to improve access to fresh fruits and vegetables in the communities where they work but also to share knowledge about the importance of healthy eating.
Several of the items were headed to the on-site store where community members can access emergency supplies with a referral from one of many listed organizations to get them through to their next influx of government assistance. In addition, the food is used in Martha's Table's school programs to teach kids where their food comes from and how delicious fresh fruits and vegetables can be.
At 4P Foods we believe that education is an important tool to fostering healthier and more resilient communities. That's why, when our subscribers are eating raspberries, kale and kohlrabi, we want the children taking part in Martha's Table's programs to be eating raspberries, kale and kohlrabi and learning how important these items are for their overall health.
If you are interested in offering your support for these programs by volunteering with Martha's Table please send an email to amber@4pfoods.com. We hope to plan a group volunteer day to see how our support is making a difference in the lives of our neighbors in need soon.
Plus, remember that every bag you receive from 4P Foods helps us get more and more fresh, local fruits and vegetables in the hands of people who need it. Thanks for being part of our mission to create a more sustainable and equitable food system for tomorrow.
For more information on Martha's Table's food and nutrition programs, head on over to their website at www.marthastable.org