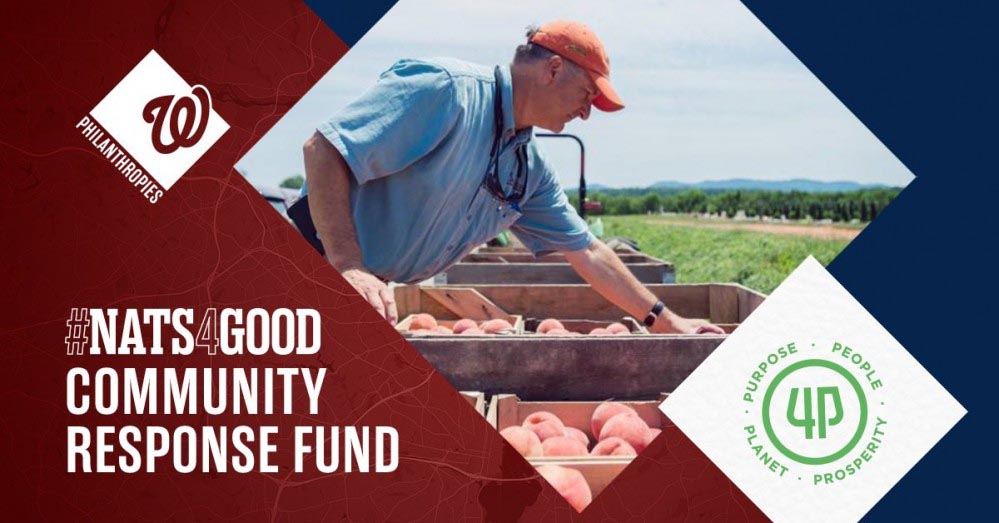 Nats4Good and 4P Foods Fight Hunger During Global Pandemic
April 09, 2020 by 4P Foods
Through the NATS4GOOD Community Responses Fund, Nationals Philanthropies is currently dispersing charitable grants to community partners that are delivering essential food access, health, and human services during the COVID-19 pandemic.
4P Foods is a longtime partner of the Washington Nationals Nationals and the Washington Nationals Youth Baseball Academy. Since 2017, 4p Foods has partnered with the Washington Nationals Youth Baseball Academy to connect families living in Ward 7 and 8 to affordable, organic fresh food. The Nationals Philanthropies recently awarded the Mid-Atlantic Food Resilience and Access Coalition (MAFRAC), an organization led in part by 4P Foods, the Community Response Grant. The Nationals Philanthropies outlined the purpose of the award on the website with the following statement:
Food insecurity is a systemic problem for vulnerable populations, exacerbated by the sweeping nature of the COVID19 pandemic. Longstanding food access partner of the Nationals Youth Baseball Academy – 4P Foods, is leading the Mid-Atlantic Food Resilience and Access Coalition. The grant will expand the coalition's efforts to support local farms and food businesses to ensure that our community has access to good food. The coalition is actively working to employ an innovative, multi-sectoral approach including activities that source produce and other food from local farmers and food banks, hire food service professionals to prep meals or recipes, and coordinate logistics to get food in the hands of people where and how they need it. More than a dozen other partner organizations – including Dreaming Out Loud, Capital Area Food Bank, and Local Food Hub – have joined the coalition.
While their baseball games are still on hold, The Washington Nationals have recently partnered with World Central Kitchen (WCKitchen) to turn their stadium into a preparation and packaging location for thousands of free meals every day. MAFRAC will help WCKitchen identify needs and help coordinate the logistics of the tens of thousands of free meals that will be distributed from the community kitchen once the program tees off.
4P Foods and MAFRAC thanks Nationals Philanthropies for their support as we work together to improve a food system and community deeply and indelibly impacted by the COVID-19 pandemic.
To join us in our collective efforts to improve food access in these difficult times:
1. Visit mafrac.com to learn more
2. Follow MAFRAC on Facebook, Twitter, and follow #MAFRAC to read about emergency feeding efforts in real-time.
3. Support the 4P Foods COVID-19 fundraiser Emergency Farms + Food Fund for the Greater DMV/VA area.