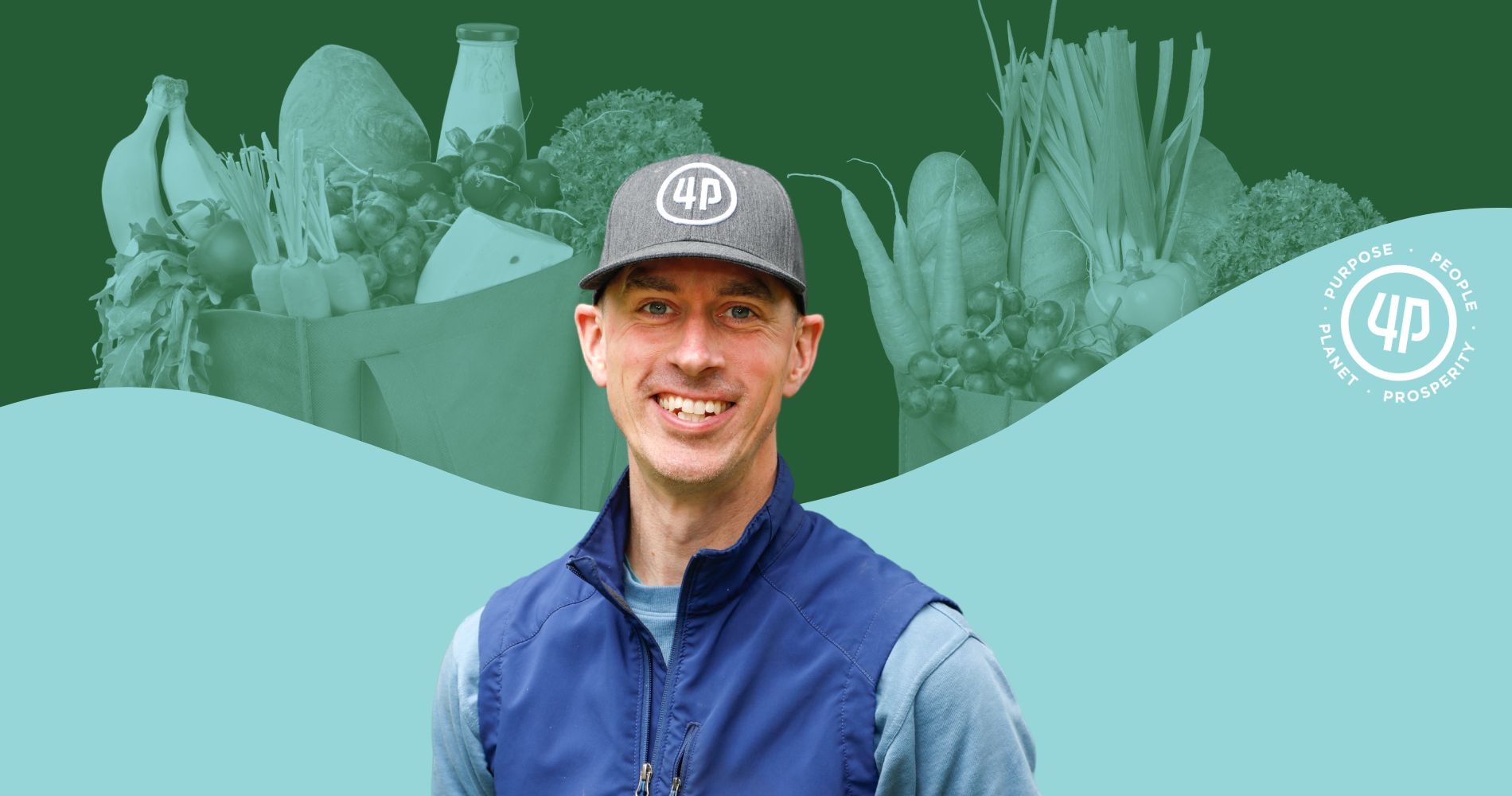 Tom McDougall is an Aspen Institute Food Leader Fellow
September 21, 2022 by 4P Foods
Tom McDougall, Founder & CEO of 4P Foods, joins the Aspen Institute food leaders fellows with 17 emerging food leaders selected from the United States, Puerto Rico, and Mexico. Leaders will commune for 18 months to discuss and uncover challenges within the current food system and develop solutions for the better.
We interviewed Tom after his week at the Aspen Institute campus in Aspen, CO. Tom offers up thoughts and inspirations on…
What was it like being on the Aspen Institute Campus for the kick-off week?
It was like I was getting breadcrumbs from the universe confirming my place on this path in the food system.
I have been on a very profound personal and professional journey with 4P Foods. It's been an evolution of my own realization: from hoping I'm on the right path to knowing that I am. This deep knowing has evolved into a bigger picture of interconnectedness with spiritually and faith. As I trudge down this path, I'll occasionally see a breadcrumb assuring me that I'm exactly where I'm supposed to be. While I was on campus, there were dozens of breadcrumbs signaling that this gathering is a critical juncture.
The architectural design of the campus was in and of itself a breadcrumb. For as long as I can remember, I've enjoyed architectural design and patterns with things like "the golden ratio" and the Fibonacci sequence-the sequence which follows the rule that each number equals the sum of the preceding two numbers. On our tour of the grounds, it turned out that those same patterns and influences are part of the entire design, highlighted at the Herbert Bayer Center. The Aspen Institute Campus is designed around the Fibonacci sequence and the symmetry that creates. My mind was blown. Hello there, Universe.
What was the most inspiring aspect of your week at the Aspen Institute?
Hands down, my fellow Fellows. They are the largest part of what makes this opportunity so incredible. The people in the cohort are some of the most amazing people I have ever met - truly inspiring food system leaders. They come from all walks of life, companies, and organizations doing really important work within the food system. Being in a community where we each strive to understand how our existing food systems function, while also recognizing the urgent need to revolutionize it - is inspiring and invigorating. That, and, they are some of the most kind, big-hearted, and loving people I've ever had the pleasure of meeting, and to know that we will all now be part of one another's journey through life is something that fills me with gratitude.
How did you feel about being accepted into the Aspen Institute Food Leaders Fellowship?
In one word: grateful. I've been honored to participate in a similar fellowship program with an organization called the Global Good Fund-which was a critical step in the growth of 4P Foods. I expect working with the Aspen Institute to be just as wonderful and beneficial. This structured personal and professional leadership development will help me to continue my own growth, and the growth of 4P Foods, especially as we enter into our next chapter of regional and regenerative food system development.
I also feel the weight of the responsibility and privilege when being gifted this type of support and resources. Throughout this journey, I center the voice in my head and heart that's asking, "What is my responsibility as a leader taking up space where someone else is not?"
How does the fellowship with the Aspen Institute relate to your work at 4P Foods?
As the founder of 4P Foods, I am challenged to successfully transition myself from scrappy startup founder to CEO of a company improving the world. Those are two different jobs that require different approaches. This is my first time making this transition and I'll need guidance and support in doing so. I welcome the help and the community an opportunity like this offers. It feels like exactly what I need, and what 4P needs, exactly when we need it. Hi again, Universe.
What are your next steps with the Aspen Institute Food Leaders Fellowship?
Every other month for the next year, I'll connect with my fellow Fellows and then link up again at two additional week-long excursions. The Aspen Institute has fostered leadership development for over 70 years, so I am very excited for their time-tested process.
I'm looking forward to seeing what ideas will be generated as a cohort. It's no secret that our food system needs a significant overhaul to improve farmers' quality of life, regenerate our lands and communities, and create equitable access to good food for all people. That's a tall order, but the good news is I'm with the people in the room that can make that happen. I'll keep you posted on what happens next.