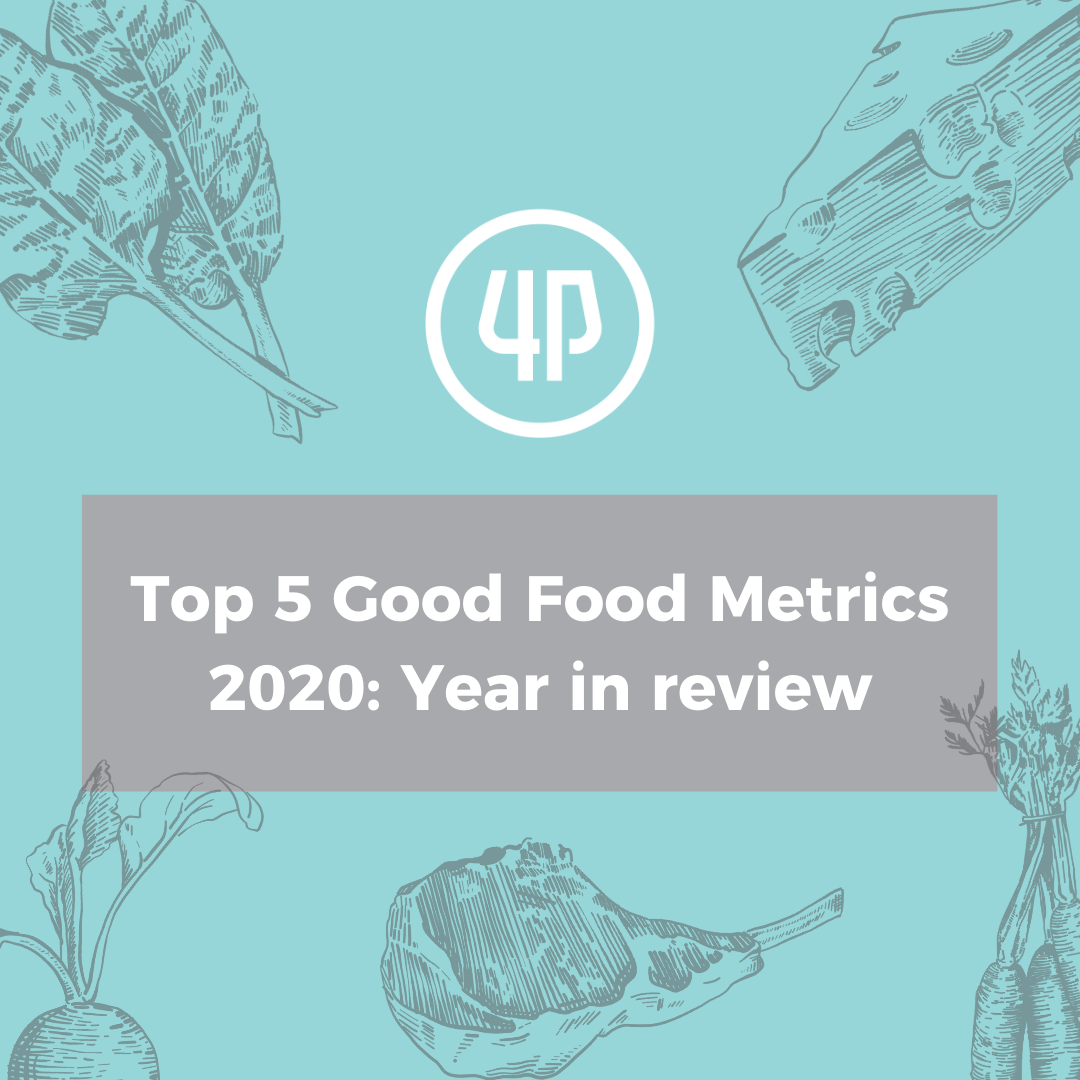 2020 Year In Review: Resilience Of Local Food Systems
January 09, 2021 by 4P Foods
The resilience of local food systems was a shining bright spot in 2020, a year that was extremely challenging in so many ways, from a global pandemic to this nation's long overdue racial reckoning. As we at 4P Foods look ahead to how we will continue realizing our vision of a radically equitable, regenerative food system in 2021, we wish to take a moment to share a bit more of our story of 2020 and to reflect on the impact we were able to have with our strong community of farmers, partners, members, and supporters.
In mid-March, we moved into a new warehouse in Warrenton, VA, and though it was only across the parking lot from our old space, at 13,000 square feet, it felt enormous in comparison. At the end of that move-in weekend, we looked around with big plans for how we'd hustle to fill it by the end of the year. Little did we know that just a few weeks later we would be bursting at the seams as thousands of people sought out local grocery delivery for the first time.
Many millions of dollars spent with small farmers, tens of thousands of deliveries dropped off at homes and apartments, and probably about as many lessons learned later, the driving force behind everything that we do has remained rock-solid: our mission. We want you (and everyone, regardless of race, income, or zip code) to be able to eat Good Food and change the world. And why do we think that eating Good Food can change the world? Because everyone eats, every day, and Good Food is food that provides nourishment and enables people to thrive, is equitably accessible to everyone in our region, is produced in a manner that is environmentally regenerative, comes from a supply chain in which every being is treated with respect and dignity, and improves health outcomes and economic security for all.
While there is certainly a long road ahead, with your support, we are making progress each and every day, as evidenced by these top five Good Food metrics from 2020:

Spent nearly $3M with independent Virginia farmers
Since our start-up beginnings in 2014, sourcing food from local and sustainable family farms has been our priority. With your support, 4P Foods tripled its purchasing from local, small- and mid-sized farmers in 2020. When you spend your grocery dollars with 4P, 60 cents of every dollar goes to the farmer, as compared to 14.5 cents per dollar at conventional stores. In 2020, 4P sourced directly from 109 regional farmers and producers, plus dozens more through our sourcing relationships with eleven food hubs and cooperatives. We also brought on many new producers, such as Herbert Brown of Browntown Farms in Warfield, VA (pictured above), helping connect them to new, larger markets. You may have had Brown's cherry tomatoes over the summer, and you can find his amazing strawberry jams in our Pantry section year round. With your support, we are investing in the hardworking farmers, independent local businesses, and precious land and natural resources that will continue to feed and nourish our communities—through this crisis and for years to come. (Photo courtesy of Browntown Farms).

---

Moved over 50,000 lbs of donated or rescued food to dozens of community organizations across DC/MD/VA
When 4P Foods Founder & CEO, Tom McDougall, found himself at the National Good Food Network conference in New Orleans in mid-March, surrounded by other food system stakeholders grappling with the impending crisis, very little was clear other than that COVID-19 was going to challenge the food system like nothing before. Seeking to build upon the strong, interconnected, yet agile network of the local food system, 4P Foods co-founded the Mid-Atlantic Food Resilience and Access Coalition (MAFRAC) to coordinate regional efforts to keep people fed, farmers growing, and small food businesses operating. To date, MAFRAC has distributed over 85,000 pounds of donated or rescued food (including over 50,000 pounds moved by moved by 4P drivers in 4P trucks) and used a participatory grant-making process to give 78 food assistance organizations over $750,000 in funds to buy food from local producers to give to those in need. That's money that went back into the local food system to support local farmers and food businesses, while getting Good Food to those who need it.
Beyond the pounds of food distributed and dollars granted, MAFRAC's intangible impacts, in connections made between and knowledge shared among the hundreds of stakeholders in its network, will continue to strengthen the food system long beyond the pandemic. MAFRAC will continue its work of connecting people, food, farms, and funds as long as there is a need. If you are in a position to give, please consider making a tax-deductible donation to MAFRAC today.

---

Distributed over 10,000 meals in partnership with Community Cooks
On a blustery spring day in late March, 4P distributed 500 locally sourced, pay-what-you-can taco meals with the help of Fauquier Community Child Care (FCCC) in the parking lot of Lord Fairfax Community College. From this first Taco Tuesday, an ongoing grab-and-go lunch program was born. Intended to address the gaps in existing nutrition programs and feed the most vulnerable in Fauquier County, the home of our food hub headquarters, this program distributed 4,975 meals, all sourced from local small farmers and businesses, during its first two months. 4P then joined forces with chef Venus Bazan Barratt of the Warrenton Wellness Kitchen, who started an initiative called Community Cooks out of her desire to bolster the local restaurant community and to use her tiny but mighty kitchen and team of dedicated volunteers to ensure everyone had access to healthy food. With support from MAFRAC and the PATH Foundation, Community Cooks sourced local ingredients from 4P and paid local chefs to turn them into prepared meals, providing a lifeline for both restaurants facing the pinch of business restrictions and individuals facing food insecurity. The meals were then distributed by 4P trucks and FCCC volunteers, who provided not just food, but a sense of community and authentic care for the people they served. Community Cooks provided another 6,230 meals from May through August. Together with our community partners, generous donors, and the support of members like you, 4P was among the many who acted to ease the burdens of the pandemic.

---

Delivered over 25,000 bags to community partners who share our vision of making Good Food the norm, not the exception
You might not expect a neighborhood gym or an advocacy organization to host food distributions, but in 2020, 4P partnered with these and other community organizations to increase food access in their communities. As a food hub, we have always activated our infrastructure and operations team to connect people to fresh food from our farm network. In 2020, 4P Foods doubled down on our mission to ensure that all people have access to Good Food, just as many businesses and organizations pivoted their operations in order to support their communities through the pandemic. For example, with the support of the MAFRAC network and a MAFRAC grant, Leila Bournes of Bourne 2 Fly Fitness in DC began holding regular events at which community members could pick up wellness bags stocked with cleaning and personal care items, plus fresh produce from 4P. Together with Leila and many other partners, 4P helped deliver over 25,000 bags of fresh food to help those in need in 2020.
Many of those bags were distributed through a program run by our longtime partner Local Food Hub's Fresh Farmacy Program, which more than doubled its reach to serve over 400 families every week in 2020 (and will continue to do so into 2021). Fresh Farmacy provides bags of fresh produce to Charlottesville-area residents who have limited access to healthy foods and suffer from diet-related illnesses. 4P has a dedicated sourcing program for Fresh Farmacy, allowing us to work with farmers who may not (yet) be a good fit for our core sourcing, either because they're new to wholesale or operating on a very small scale. This program was critical not only for those in need of healthy food, but also for emerging farmers who saw Fresh Farmacy purchases grow by as much as twenty times during a year when traditional markets were turned upside down. We are grateful for the commitment of every partner and the 4P team working tirelessly to make Good Food accessible to all people, no matter their age, race, zip code, or income.

---

Created community with 4P Virtual Tours with 11 farm and community partners
Food and community go together like peanut butter and jelly, eggs and bacon, berries and cream... You get the picture! So how do you create community around food when you can't be physically present and break bread together? In lieu of our annual Earth Day Birthday celebration (which traditionally marks the start of spring and the anniversary of 4P's founding in April of 2014), we forged a new path to building community and connection with our mini-series: 4P Virtual Tours. Throughout the spring, 4P broadcasted everywhere from farm fields to cheese caves on Facebook Live, as we sought to share with you some of the stories behind 4P's food, mission, and partners. Thanks to some editing magic and the seven willing partners who welcomed the 4P community behind the scenes, you can find condensed versions of the tours on our YouTube channel. In this mini-series, you'll be introduced to MountainView Farm, a woman-owned artisan cheesemaker regularly featured in our Dairy Bag; Together We Bake, a mission-driven bakery and non-profit providing job and life skills; Dreaming Out Loud, a dynamic food justice organization and operating food hub in DC; and more. Watch the tours on YouTube and share with friends and family so that more people can learn about these amazing businesses and organizations.

---
Many thanks to you, to our community partners, and to the farmers and artisans working alongside us to build a more sustainable and equitable food system. Wishing you all good health and plenty of Good Food in 2021!
Peas & love,
Tom & The 4P Family