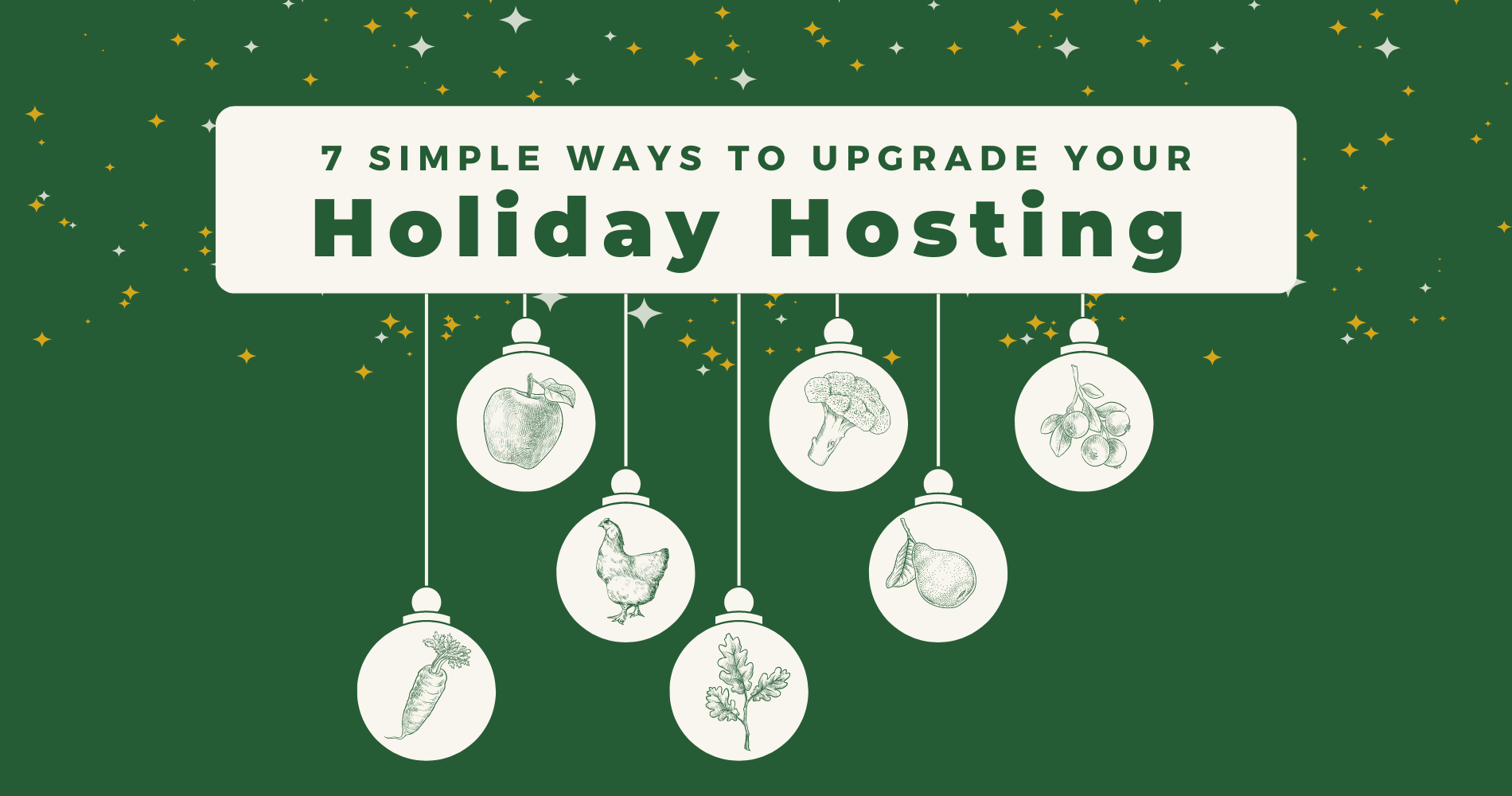 7 Simple Ways to Upgrade Your Holiday Hosting
November 28, 2022 by 4P Foods
From impressing the in-laws to celebrating with friends, we all know just how much we need to get done to to prepare for the holidays. With 4P Foods, you can be the host with the most and show your love for the planet!
This holiday season upgrade your holiday hosting, improve your carbon footprint, and reduce your stress with these simple ideas.
#1 Buy in-season produce.
In-season, local produce tastes better than produce traveling longer distances.
Fresh food tastes better and is more nutrient dense. In-season produce sourced from local and regional farms is harvested when fully ripe for better flavor and better nutrients. Produce from 4P Foods travels an average of 300 miles, whereas produce in the grocery store travels an average of 1,300 miles to reach your table.
By adding a 4P Foods produce tote to your cart, you're adding all that flavor to your side dishes, desserts, and appetizers. Easy Pea-sy!
#2 Get your groceries delivered.
Let us save you time while delivering products from independent farmers and artisans right to your doorstep!
4P Foods delivers in-season produce and pantry staples sourced from independent farmers and artisans we know and trust in Washington, DC, Virginia, Maryland, and through the Eastern Seaboard and Mid-Atlantic. Farmers we source beyond our region meet our sourcing standards and help us offer produce not seasonally available, especially during the winter months.
View our holiday essentials tab to get what you need to celebrate delivered to your doorstep.
#3 Purchase local and ethically-raised protein.
Delicious, source-identified protein delivered right to your doorstep.
Impress your in-laws! Or your friends, parents, siblings, significant other, or yourself! 4P Foods only provides locally-sourced and ethically-raised beef, pork, chicken, turkey and lamb.
#4 Wow with specialty cheeses.
Everything you need to create a beautiful charcuterie board or cheese spread.
Do you want to be dairy-ing and serve cheeses that will "wow"? We can help you create a beautiful charcuterie board or cheese spread! 4P Foods' wonderful procurement team finds the most delicious handmade cheese from regional sources and, through a partnership with a Northeast food hub, Vermont cheese!
#5 Stock up on snacks and easy appetizers.
Shop our selection of snacks and ready-to-go appetizers.
Avoid the family hanger with our selection of delicious, locally made snacks and easy appetizers to serve before, during, and after the feast. We have:
#6 Don't forget the drinks.
A festive drink is a thoughtful addition to your gathering.
Cocktails, mocktails, coffee, and seasonal favorites. We've got the drinks!
For seasonal favorites try:
For mocktails and cocktails:
#7 Take a shortcut or two.
Shhhh! No one has to know, because these baking and cooking shortcuts will taste amazing.
Are there certain baking or cooking tasks that you just don't like to do? No worries, we have shortcuts that still taste amazing.
For cooking shortcuts:
For dessert shortcuts: