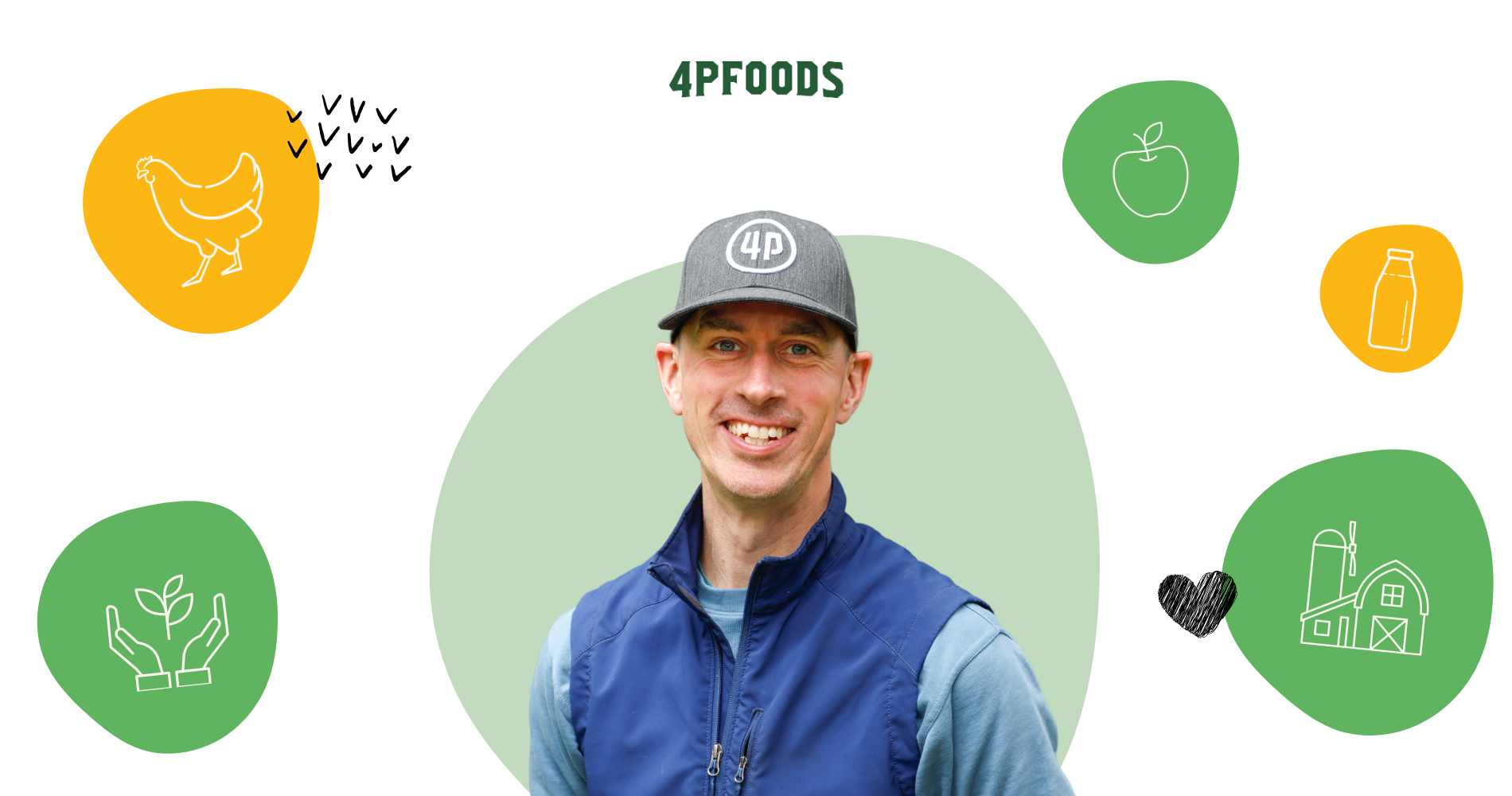 Why My Life's Work Is Food Systems Change
May 10, 2023 by Tom McDougall, Founder & CEO of 4P Foods
Tom McDougall here - Founder & CEO of 4P Foods.
Building regional, regenerative supply webs as a scaffolding for the food systems of the future is my life's work, though I recognize it is addressing a series of symptoms that result from a flawed system. The current industrial food system - the supply chain that is extractive, oppressive, and dangerous for our planetary and communal health - is built upon a global financial model that both allows for and rewards externalities.
The price of cheap food very rarely (if ever) represents the true costs. The real cost is captured in the degradation of our environment, a growing hunger-obesity crisis, an increase in the number of food-insecure families here at home and around the world, and a climate problem that will tear at the very fabric of our social stability. The federal government and governments around the world recognize the need for an alternative to this linear, extractive food supply chain.
The question is, can we collectively build it? Will we build it? And can we do so in time to avoid catastrophic suffering of all sentient beings at the hands of a system that is long overdue to be reformed, or better yet, outright replaced?
This past March, the Intergovernmental Panel on Climate Change (IPCC) released their final installment of IPCC's Sixth Assessment Report. The results were bleak. We've already reached 1 degree celsius of human-induced global temperature rise resulting in extreme weather events around the world. As this article from the Washington Post details, "The world is likely to surpass the target of 1.5 degrees celsius by the 2030s, at which point basic components of the Earth's systems will be fundamentally and irrevocably altered. Heat waves, famines and infectious diseases could claim millions of additional lives by century's end."
TLDR: our earth's system has already been altered. As with all systems failure, marginalized and under-resourced communities around the world will be hit the hardest, they will be hit worst, and they will experience the impacts first.
However, it's not all doom and gloom. Together, we can mitigate risks and build more resilient systems to sequester carbon, increase ecosystem biodiversity, store and retain water, expand opportunities for the 570 million smallholder farms around the world, produce incredibly delicious, nutrient dense food, and help us reach net-zero emissions by 2050. In order to do so, we must act with urgency and focus on building a new food model for local food systems, regional food systems, and collectively, the food systems that feed the world.
4P Foods just celebrated 9 years of rebuilding a regenerative and equitable food system. I started 4P Foods in 2014 to make it easier to access food grown by local and independent farmers. We've come a long way since I shuffled bags of farm-fresh produce on the DC metro to our first customers. That journey has involved a huge number of food system partners, farmers, and community activists like you.
Currently, we're working with partners to reduce inequities in agriculture and food access. Powered by our passion, your support, our communities, and Mother Earth, 4P Foods is now a food aggregator that distributes responsibly-sourced food to residential customers, universities, restaurants, grocery stores, and K-12 school cafeterias.
This school year, 4P Foods delivered to 900 public schools in Virginia spanning 80% of the state. This program provided nutritious food to children, including those living at or below the poverty line. By delivering to Virginia public schools, we provide important nutrients and fuel to keep children focused and learning as well as providing 30 farmers with larger wholesale outlets. Larger, more consistent wholesale buyers for regional farmers means that farmers can invest in infrastructure that can move their operations toward more sustainable and regenerative practices. But, this is just one area in the food system where 4P Foods is trying to move the needle.
We are also excited about our Regional Food Ecosystem for the Mid-Atlantic (RFEMA) project that is partially funded by a grant from the USDA. This project will build essential infrastructure to scale regional, resilient, regenerative food systems and improve food access in the Mid-Atlantic. The design of this project will leverage 4P Foods' existing regional partnerships to connect local producers with institutional buyers and implement system-wide inventory and management solutions.
Every purchase you make from 4P Foods supports our mission to build this new system. Our goals are more fresh food for you, better soil for the earth, and improved livelihoods for our farmers. Without you, our work is impossible. Thank you for being a part of this community.
Peas, <3, and artichoke hearts,
Tom & The 4P Foods Family