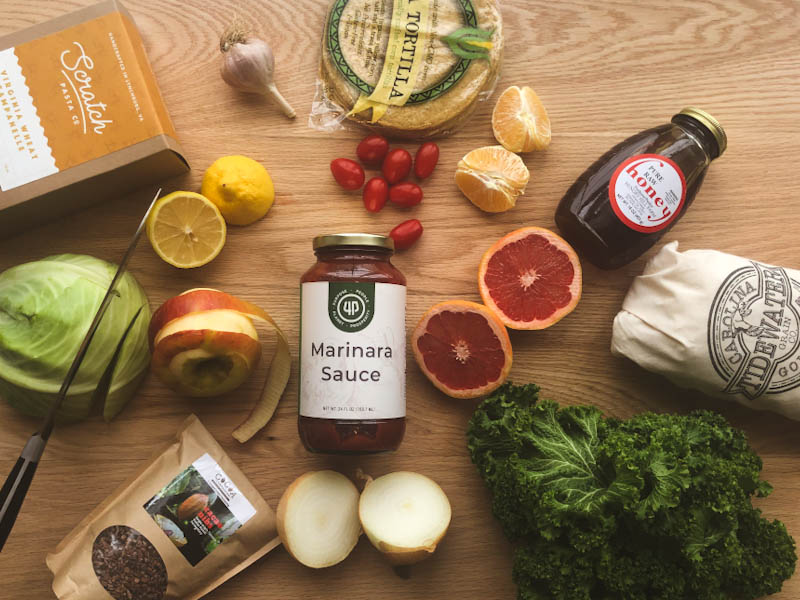 Eat Well, Live Well with 4P in 2022
January 10, 2022
Eat well and live well with us this year. 4P Foods can connect you to a more sustainable food system. The transparency of 4P Foods' supply chain and our dedication to people, planet, prosperity and purpose mean that when 4P Foods succeeds, our growing partners, food access partners, and customers succeed as well. Here are the things that will help you, the 4P Team, and 4P's partners eat well and live well in 2022:
Recipes to Cook with the Seasons
The 4P Team and farm and artisan partners are very inspired by food, and we want you to be inspired too! 4P will deliver the best ingredients to your door year-round. We will be sharing more recipes on our social media. We are also launching 4P Featured Recipe with an ingredients shopping guide. We are very excited to show recipes that feature Good Food. Follow us on Instagram, Facebook, Pinterest and Twitter @4PFoods to learn, cook, and share!
Discussion Around How Food is Grown
In 2022, we want you to feel more connected to your food by continuing to highlight our amazing farm and artisan partners. We want to help you dive deeper into growing practices that are better for you and the planet like regenerative agriculture! The key idea behind regenerative agriculture is that it not only "does no harm" to the land, but actually improves it. Follow along with us and our farmers this year to learn more.
Ideas for Reducing Food Waste
Food waste can happen at every point of the process from demand planning to processing to packing to delivering to cooking. The 4P team wants to reduce food waste where we can and help you do the same. For example, in 2021, we jarred marinara sauce at Hatch Kitchen, allowing us to extend the life of peak season tomatoes and use "ugly" tomatoes that otherwise would have gone to waste. By buying 4P marinara sauce, you are helping reduce food waste. We also started compost at 4P headquarters. Our operations team has already composted 2.71 of food waste that will now make its way back into the soil to nourish more crops.
Continued Partnerships with Food Hubs and Growers
Since launching in 2014, 4P Foods has connected 600 producers with 12,000 customers and 250 wholesale buyers. We will continue to grow our operations and mission by nurturing partnerships with other food hubs through the Eastern Food Hub Collaborative, building relationships that support local and regional farmers, and bringing fresh, high-quality produce, meat, dairy, and pantry items to wholesale and retail customers.
Continued Partnerships with Food Access Programs
We work with many organizations to help increase access to Good Food in the communities they serve. Partners include Local Food Hub and their Fresh Farmacy initiative, for which 4P Foods aggregates, packs, and delivers Good Food to individuals prescribed nutrient-dense, local food for better health. We also work with the Washington Nationals Youth Baseball Academy to provide fresh fruits and vegetables in Wards 7 and 8 of Washington, D.C. through The Field of Greens Market. To date, more than 9,000 bags of fresh food have been distributed through these two programs. In 2021, 4P Foods expanded its partnerships to include Brighter Bites, a national organization that distributes fresh produce and educational materials to schools in underserved communities. The partnership launched in September, and 4P Foods will distribute fruits and vegetables to schools in Prince George's County, Maryland, where Brighter Bites serves more than 2,800 families.
---
"At 4P Foods, our mission is twofold. First, to help farmers not just to survive, but to thrive. And second, to make sure everyone — no matter their race, zip code, or income — has access to that food," explains Founder and CEO Tom McDougall. "Good Food should be a right, not a privilege - together with our partners, we're fighting to make that a reality."