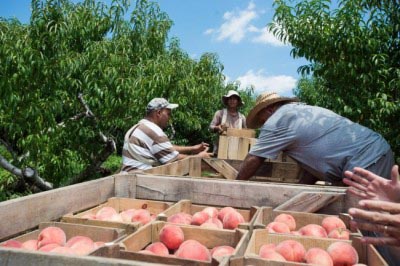 What You Need to Know About Regionally-Sourced, Nutrient-Dense Food
February 01, 2019 by 4P Foods
4P Foods brings high quality, healthy food directly to your door. Each week, we deliver a selection of freshly harvested items from our partnering farms, many of whom are local, and all who meet our standards for sustainable agriculture and food safety practices. Farm partners are small-scale, family owned and cooperatively owned. Every order helps strengthen the business of our hard-working farmers and helps us give back to the community.
Often, new customers ask questions like "Why aren't all of my veggies grown in Maryland?" and "How is it possible to get vine-ripened tomatoes in February?" or "Why do you offer bananas?" Such questions can be answered by our mission to connect you to the best seasonal, good food.
We value customers who want to shop small and eat local. We also understand that not everyone wants to eat piles of turnips each week during the cold growing season (even if they are beautiful, local, and organically grown turnips!). We know this because we tried a local-only approach to distribution during our first year as a food hub in 2014. During that first winter season, the company almost went out of business as we lost a large portion of our customers due to the limited variety of foods from our local farmers. Yikes! In an effort to stay afloat, we did three things:
1) We surveyed customers to see what they thought about eating regionally grown food (in addition to local food) from sustainable, ethical, and small family farms. The response was overwhelming! 96.5% of our customer base wanted to eat seasonally, saying "Hell yes, I love grapefruit!"
2) We partnered with farmers who invest in an extended growing season in order to bring you leafy, locally grown greens year round.
3) We partnered with local makers to bring you small batch, artisanal products that add variety to your plates (hello, pickles!).
By diversifying our approach, sales grew five-fold the next year. Local partnering farmers were thrilled to receive high volume orders when, in peak season, they had tomatoes growing out of their ears. We were able to maintain and grow our customer base through the winter months, thanks in part to the local turnips, but also to those regional grapefruit. This growth has strengthened the business for our local farm partners. Customers were pleased to receive bags filled with a colorful range of seasonal produce and pantry items, in addition to locally grown food. We have found the results to be happy farmers, happy members, and a sustainable, more resilient food chain.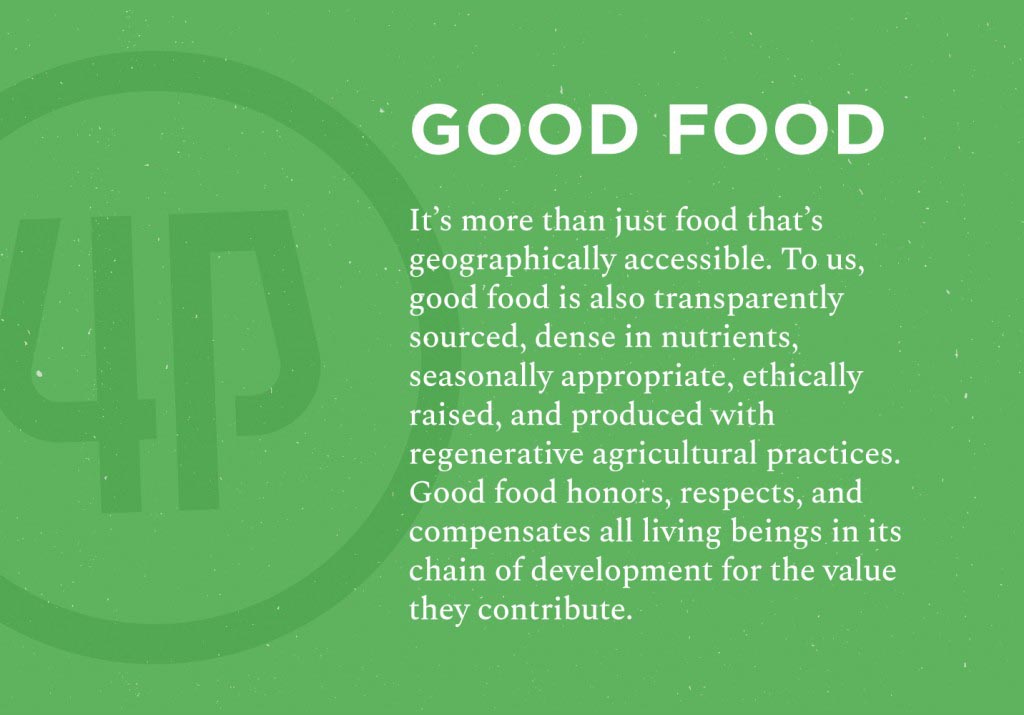 Partnering farmers and local makers are chosen for sharing our values of good food. By good food, we mean: food that is transparently sourced, dense in nutrients, seasonally appropriate, ethically raised, and produced with regenerative agricultural practices. Good food honors, respects, and compensates all living beings in its chain of development for the value they contribute. As a food hub and benefit corporation, our mission is to build a more sustainable, ethical, fair, and equitable food system for all.
Seasonal Produce
Year-round, we offer pastured, grass-fed, non-GMO, and humane meat and dairy products from local family farmers. Fruit and vegetable offerings will vary through the changing seasons, just as nature intends. During the warm growing months, produce is sourced almost entirely from within the local DMV food shed. In the off season, our sourcing geography expands to include the best seasonal food from more temperate climates. We partner with food hubs like Eastern Carolina Organics and GrowFood Carolina, that aggregate high quality, freshly harvested food from small family farms within their own region. From November to March, you can enjoy spinach and peppers grown in North Carolina and in-shell, whole pecans from Georgia, as well as locally grown root veggies, hydroponic lettuces, and cold storage apples. Winter citrus, like South Carolina Satsuma Mandarins and Rio Star Texas Grapefruit are offered in the coldest months. Our regional farm to fork supply chain connects you to a variety of flavors and nutrient-rich food. View past newsletters to see what was grown, harvested, and eaten through the seasons!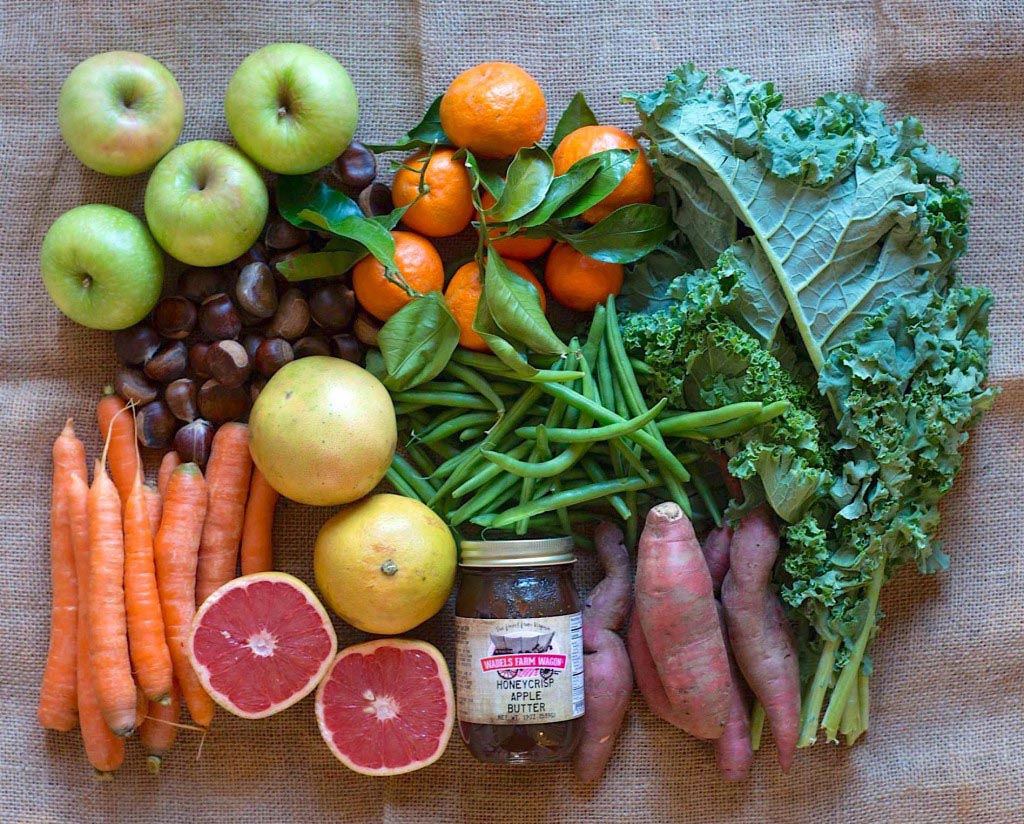 Pictured is an example of a 4P Produce Bag in winter.
Climate Change
Along with the changing seasons, our changing climate is a large component to aggregating food from a large network of growers. Farmers and distributors alike, are affected by unexpected weather patterns that cause a general decline in crop yield and increase in losses. This year alone, we hit record high rainfall by August. Fields flooded, crops were destroyed, and harvests were pushed back weeks from the intense rainy season. Climate change is creating the need for adaptable food production, not to mention an urgency for regenerative agricultural practices. While building our product availability list for the upcoming week, we often need to make last-minute changes to projected orders based on unexpected weather patterns like extreme rainfall or a deep freeze that diminish anticipated crop yields. Sometimes this means sourcing squash from multiple local farms, which you will see listed in our newsletter; other times this means sourcing produce from another growing zone entirely, from our food hub partners. Strengthening business for our local farmers means you are investing in regenerative agriculture, while aiding farmers ability to invest in more climate resilient technologies. Through our local and regional supply chain, we are building a more sustainable and resilient food system.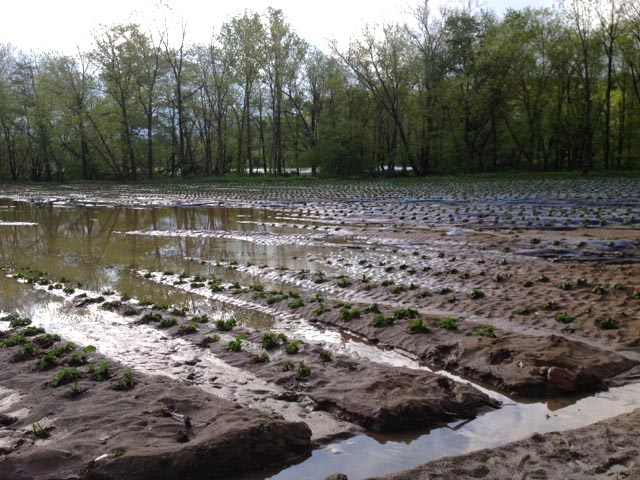 Flood-affected fields from the from the Carolina Farm Stewards Association.
Fair Trade Fruit
Did you know that the average American eats over 28 pounds of bananas a year? Imported tropical foods have become a staple in our diets. Widely available cheap, foods like bananas come to the U.S. at a great environmental and social cost. Conventionally produced tropical fruits are farmed by huge monoculture plantation model that relies heavily on the use of chemicals and unfair, and often unsafe working conditions for laborers. In the trade economy, when the market price of goods, i.e. bananas, drops so does the compensation, and workers and farmers are devalued with unstable pay. At 4P FOODS, our good food offerings include Fair Trade tropical fruits in support of a more honest, environmental, and just trade model.
Fair Trade is a democratic model for internationally imported food that outlines fair price for products, focuses on ethical treatment of farmers, promotes environmental practices, and uplifts communities through socioeconomic development. Through Fair Trade regulations, the people growing the food and the buyers bringing it to market in the U.S. follow Fair Trade standards outlined by a certifying organization.
We are proud to partner with Equal Exchange, a worker-owned cooperative, to source Fair Trade food from small, farmer owned cooperatives. Generally between peak fruit seasons, we offer Fair Trade bananas and avocados from farmer-owned cooperatives in Peru. Certified Organic, Fair Trade Bananas in your 4P bags are from Beyond the Peel, The Central Association of Small Producers of Organic Bananas (CEPIBO) in Peru. Certified Organic and Fair Trade Hass Avocados in your 4P bags are from PRAGOR Cooperative, grown in Michoacán, Mexico. We strongly believe that by connecting you to these Fair Trade farms, we can offer a more honest and fair alternative to conventional tropical fruits in the supermarket.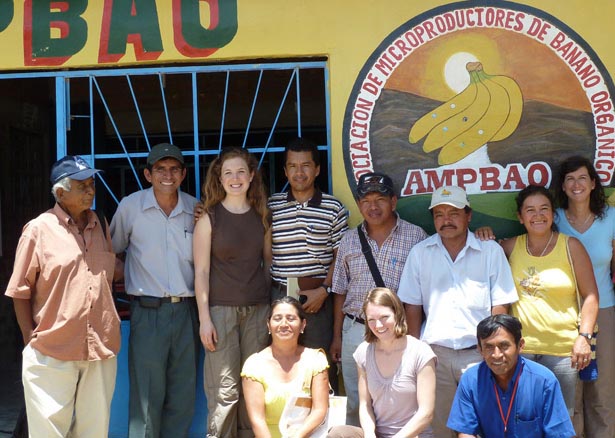 Banana farmers of the Association of Small Producers of Organic Bananas in Peru, a partnering cooperative to CEPIBO.
Note: If you wish to stick to a more local diet, simply opt out of the occasional banana bunch by customizing your order!
Good Food Communities
The purpose of 4P FOODS is to build good food communities. We connect you to good food, (i.e. food that is that is transparently sourced, dense in nutrients, seasonally appropriate, ethically raised, and produced with regenerative agricultural practices). With every 4P bag ordered, you are helping support small farmers and sustainable business to grow; helping our community food equity initiatives; helping our local food bank donations. This is because with 4P FOODS, good food gives back. For every 10 bags sold, we donate 1 bag to a local food bank partner year-round. Our food access program through our partnership with the Metropolitan YMCA and Washington Nationals Youth Baseball Academy is the first step of a long-term strategy to provide geographic, cultural, and financial access to healthy food.
We can't accomplish our mission of making good food accessible to all without the support of you, our customers. Thank you for being part of our work. Together with your support, we are building a better food system.
Happy Eating!