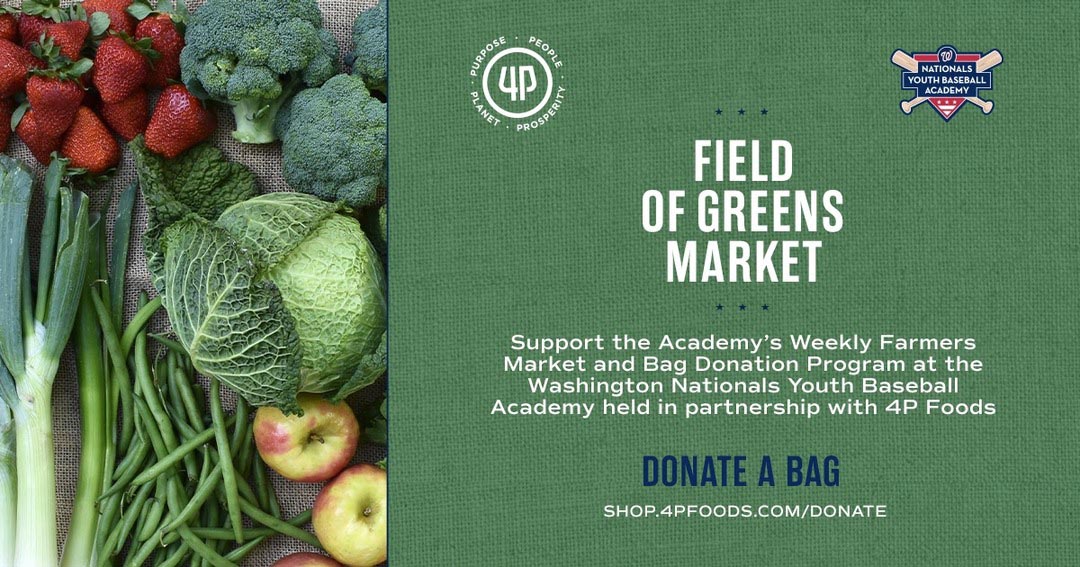 Make a Donation: Support Access to Nutrient-Dense Food in D.C.
February 17, 2021 by 4P Foods
4P Foods has teamed up with our longtime community partners at The Washington Nationals Philanthropies and its signature program, the Washington Nationals Youth Baseball Academy, to launch a campaign to help sustain the weekly farmers market at the Academy's Ward 7 facility.
Since 2018, 4P Foods has partnered with the Youth Baseball Academy to supply healthy, nutrient-dense produce at an affordable, subsidized rate to community residents at their Field of Greens Market (the only year-round farmers market in Ward 7). The Youth Baseball Academy's Health and Wellness Programs work to address inequity and improve health outcomes through food access and education programs.
In response to a surge in need brought on by the COVID-19 pandemic, the Academy distributed more than 2,000 bags of produce in 2020—increasing their distribution by 210% over the year prior. In order to keep pace with demand, the market needs to distribute up to 90 bags of produce each week. With a donation today to "Buy A Bag" on behalf of a neighbor in need, you can provide enough nutrient-dense fruits and vegetables for one week for a family of four.
There are two ways to give. 4P Foods customers can make a contribution by adding the Produce Donation Bag to an upcoming delivery or opting to donate rather than skip an future order. To make a regular contribution, choose a recurring frequency from the dropdown when you add it to your cart on 4P's website. Anyone can make a direct tax-deductible contribution to the weekly market through the "Buy a Bag" donation page on the National Philanthropies website.
To learn more about Washington Nationals Philanthropy and the Youth Baseball Academy, visit their website. You can also read about the Field of Greens Market on our blog and watch past news coverage of the market on WUSA-9.
Images courtesy of the Washington Nationals Youth Baseball Academy.