Cast Iron Skillet Steak And Potatoes Dinner Recipe
4P Foods Team Member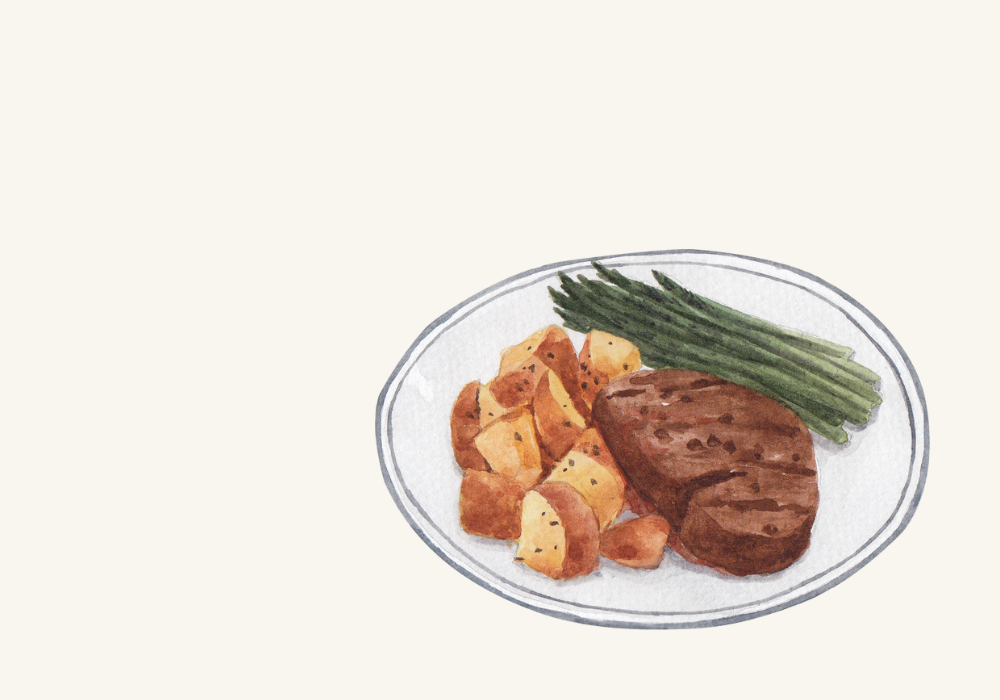 The 4P Foods team wants to help you turn in season produce handpicked by farmers in Virginia, Maryland, Washington, D.C., the Eastern Seaboard, and Mid-Atlantic into delicious, homemade meals. Romaine calm; we have flavorful dishes to add to your weekly menu and seasonal ingredients to add to your 4P grocery delivery tote.
This is the recipe for when it's date night or guests are coming over and the steaks are high. We have set up this recipe to serve two, but it can be scaled up if you have extra cast iron skillets. Steak and potatoes are delicious and filling which makes them perfect for a hearty winter dinner, but these ingredients are available year round. Grass-fed, grass-finished beef makes this recipe *chef's kiss.* You can shop regeneratively-raised and pasture-raised beef on 4PFoods.com year round!
Here is how to make this recipe with purpose-fueled food that's better for the prosperity of our planet and people.
---
Directions
Preheat the oven to 400 degrees Fahrenheit.
In a bowl combine butter, garlic, oregano and basil. Set the mixture aside.
Season steaks with salt and pepper to taste on both sides.
Heat cast iron skillet over medium-high heat and drizzle with olive oil. Once the cast iron skillet is hot, sear steaks for 2-3 minutes on each side until nice and browned. Transfer the steaks to a plate.
Place your chopped potatoes in to hot the skillet. Season the potatoes with salt and pepper. Saute for 3-5 minutes until browned.
Push potatoes to one side of the pan and return steaks to the other side of the pan.
Transfer to the preheated oven and cook for 15-20 minutes until potatoes are fork-tender and steak is cooked to your preferred doneness.
After removing from the oven, place a dollop of the garlic butter you mixed earlier on each steak. Use the rest of the garlic butter to coat the potatoes. Top everything with chopped thyme and parsley before serving.
---