Kofta, Grilled Pita and Creamy Herb Yogurt
Cooking & Drinking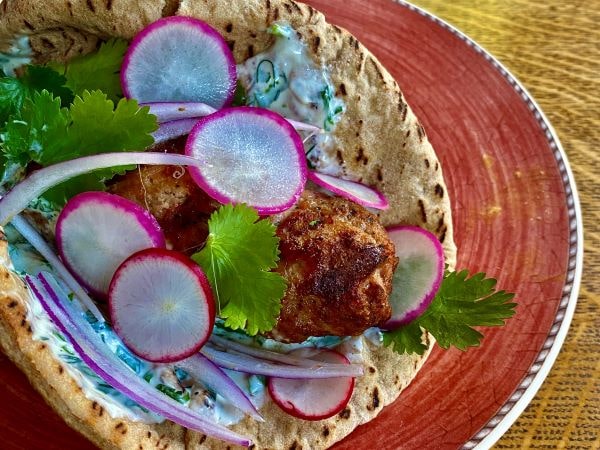 For a new take on meatballs, try this Mediterranean inspired recipe for Kofta pita sandwich served with creamy herb yogurt dressing. Add red onions, sliced radish, or pickles (or any veggie on hand from your refrigerator) and you have a delicious and balanced homemade meal! Make this recipe with your choice of pasture-raised ground meat from our shop: beef, chicken, lamb, pork, or a mixture are all suitable.
---
Directions
Yogurt: Combine all ingredients and whisk.
Kofta: Combine meat and spices. Refrigerate for 1/2 hour. Shape into four 4 oz. tube-shaped patties and grill until an internal temperature of 160 ̊F is reached. Grill or toast pita.
Serve with yogurt sauce, sliced red onion, radish, cilantro leaves and your favorite pickles!
Makes 4 servings.
---