Pumpkin Spice Pasta
Mike, 4P Foodie Recipe Contest Winner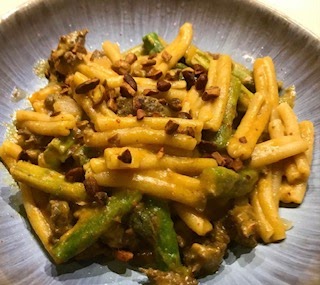 Featuring a warming sausage pasta recipe from 4P member, Mike K, and winner of a past 4P Foodies Recipe Contest. We recommend trying this with a box of artisan made Scratch Pasta and Virginia Bison Co's Bourbon Fennel Sausage (or any sausage from our selection of pasture-raised and local meat). Delicious!
---
Ingredients
Salt to taste
Bison Bourbon Fennel Sausage, from Virginia Bison Co. (or mild/sweet sausage of your choice)
Cooking oil
8 oz (half a can) of pureed
8 oz milk
Ground nutmeg
Ground ground clove
Ground cinnamon
Ground ginger
Ground onion powder
Garlic powder
Ground gochugaru
Grated parmigiano reggi
---
Directions
Start some generously salted water boiling in a pot. Saute 0.5-0.75 lb of loose mild or sweet sausage of your choice and about a third of a white onion (roughly chopped) until the onion is soft and meat is cooked or browned to your liking. Remove from the pan and discard excess oil. I used bison bourbon fennel sausage. In an empty pan, add asparagus cut into 1.5" segments, along with oil if necessary. Saute until finished and remove from the pan. Meanwhile, add a pasta of your choice to the water and continue to boil. Short pasta (e.g. ziti) works best, but any will do. Boil until done. Put about 8 oz (half a can) of pureed to the pan, now on medium. Once warm, add about 8 oz milk (I used whole milk) and stir until mixed. Bring to a simmer. Add your pumpkin spices to taste. I used freshly ground nutmeg, ground clove, cinnamon, and ginger, along with salt, onion powder, garlic powder and gochugaru. Continue simmering until desired sauce thickness is achieved. Remember, it will tighten as it cools. Once sauce is done, add sausage mixture, asparagus, grated parmigiano reggiano, and pasta, and toss until homogeneous. Spoon into a wide bowl and sprinkle with roughly chopped toasted hazelnuts or pistachios. Enjoy!
---