Heritage Glen Farms (KellyBronze Turkeys USA)
Crozet, VA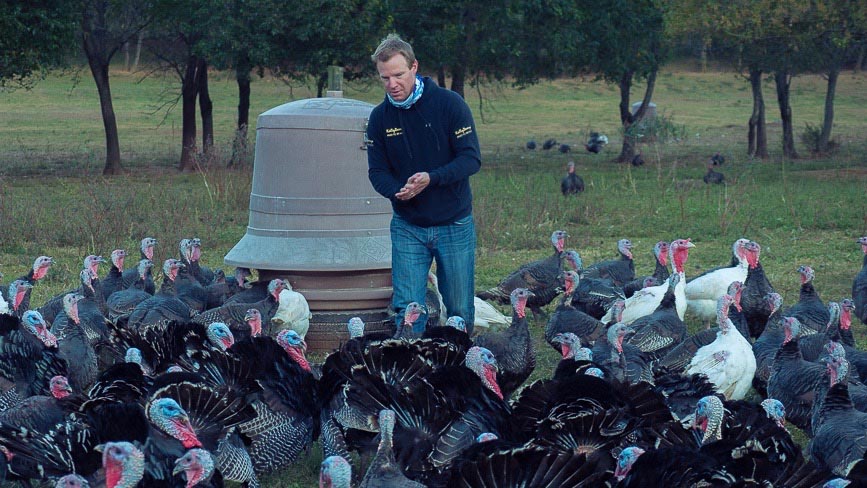 There's pastured organic turkey...and then there's KellyBronze turkey. The KellyBronze is a unique heritage breed developed by three generations of the Kelly family in England, and its unparalleled flavor, juiciness, and remarkably fast cooking time have earned numerous awards and the nickname "The Rolls Royce of Turkeys" by the Times London.
It took Paul Kelly years to find the right partner and farm to bring his family's unique turkey farming methods to the United States. In 2012, his family bought Heritage Glen Farm in Crozet, Virginia, partnering with locals Judd and Cari Culver and their family. Judd Culver studied animal and poultry science and nutrition at Virginia Tech, where he met Cari. They got to know the Kelly family after moving to Europe, and eventually moved back to Virginia to launch Kelly Turkeys USA.
Heritage Glen Farms raises KellyBronze birds sustainably and humanely, with no hormones or antibiotics, and is the only farm in the country dry-aging turkeys. The farm also produces the raw, unfiltered honey of BeeWitched Honey Farm. They began producing 1000 turkeys per year and have recently received their license to sell them outside of Virginia, with hopes to continue growing their operation.
KellyBronze birds are handled with utmost care "from egg to oven." The turkeys range freely on abundant pasture and woodland in the Blue Ridge Mountains, where they have plenty of fresh air and sunshine. Foraged foods enrich their diet of organic, locally-sourced cereal grains free from chemicals, additives, or growth promoters. The birds are bred naturally, too - hens produce eggs only the spring, when wild turkeys would normally lay them - compared to intensive production that calls for year-round laying.
The KellyBronze birds are raised to full maturity and harvested on-site at twice the age as conventionally-raised turkeys! This gives them ample time to eat more, and grow a layer of fat over their muscle and fully develop their bones. This translates to unparalleled culinary qualities, including incredible flavor, the production of natural stock for gravy, and an incredibly short cooking time due to the marbling in the meat. The care for KellyBronze turkeys does not stop at the time of harvest. The birds are plucked entirely by hand and dry-aged like wild game, reducing moisture and allowing their rich flavor to develop further. Learn more about why the KellyBronze birds are so special here.
The KellyBronze turkey is beloved by chefs, butchers, restauranteur, and 4P Foodies alike. They're living proof that slow, sustainable farming methods yield incredible results: for the birds, the farmers, and the consumer. Good meat is always worth the effort, and we're deeply proud to partner with Farmer Judd so you can enjoy a unique and delicious holiday centerpiece each November.
Farm Categories
Thanksgiving, Turkey, KellyBronze
Related Farmers & Producers