The Ultimate Guide to Community Supported Agriculture In the DMV
February 28, 2020 by 4P Foods
Last year, we were delighted when Edible DC featured 4P Foods on their list of Great CSAs in the DC area, a list which included both single-farm CSAs and other network-based delivery services like ours. While we rarely identify ourselves as a CSA, the food hub model at 4P Foods does have many similarities, notably that it offers you the opportunity to know where your food comes from and to support a direct market for small farmers with your food dollars.
As February 28th was #CSADay2020 and the excitement of the spring growing season is just around the corner, we would like to shed some light on the commonalities and differences between what we offer at 4P Foods and what a traditional CSA entails. But what is a CSA? What is a food hub? How does a food hub differ from a traditional CSA?
What is a CSA?
CSA stands for "community-supported agriculture" and first emerged in the US in the 1980s as a model defined by a close relationship between individual farms and customers. CSA participants pay one farmer in advance for a whole season's worth of food. This up-front investment is commonly referred to as a "share" which, for the patron, translates into a weekly selection of fresh produce or products picked up from the farm (or a designated location) each week.
Shares offer just that – a "share" of the harvest, whether it's green beans or grass-fed beef. For the farm, each share provides crucial income that allows farmers to invest in the season ahead, from seeds to waxed boxes to labor and all of the other things that go into the unpredictable work of growing food. For the farm's customers, each share provides a taste of and an intimate connection to what is growing at that particular farm in that particular season.
What is a Food Hub?
The USDA defines food hubs as "a business or organization that actively manages the aggregation, distribution and marketing of source-identified food products primarily from local and regional producers to strengthen their ability to satisfy wholesale, retail, and institutional demand." Food hubs bridge a gap in the food system by creating new pathways to market for many small farms and artisans, and thus make locally produced food more widely accessible to consumers. The infrastructure, scale, and collaborative nature of the food hub model allows for innovative opportunities. According to The Counter, "Food hubs occupy the space between the CSA and the broadline distributor, aggregating produce from several farms at a volume large enough to satisfy institutional clients, while prioritizing local sourcing and facilitating relationships between farmers and their customers."
Who We Are
Our model grew out of a desire to build on what is great about CSAs- direct market of farm-to-table food from small farms- while making healthy fresh food more accessible to more people in the community. We believe that Good Food—food that is traceable, nutritious, accessible, and produced in a system that empowers farmers and sustains the environment—should be the norm, not the exception, and we actively work to make that vision a reality each and every day. Every bag of produce, meat, and dairy we deliver not only supports a network of small family farms and artisan producers in the region, but also advances food access initiatives in our communities. We donate one in every ten bags purchased to a local food bank, and in tandem with our partners, we run a year-round farmers market in Southeast DC, deliver "Produce Rx" bags for low-income patients with diet-related diseases, and more.
What We Do
Every week, 4P Foods offers the convenience of food deliveries to residences, offices, and community pick-up sites in eco-friendly reusable insulated bags. Our flexible swap system makes it easy to customize what's in your bag(s) each week, and you can cancel, skip, or donate your bag(s) at any time to a local food bank or featured Bag Donation partner. Going on vacation? No problem! Don't like broccoli? You've got options! Need extra ingredients for a special meal you're planning? You can double up on what you need. All that and more in our handy shop guide.
Behind the scenes, 4P Foods connects our small-scale, sustainable producers to more customers than they could reach on their own, while connecting consumers to our versatile growing network of other food hubs. We support hundreds of farmers in the Mid-Atlantic region and beyond by handling the distribution, logistics, and marketing so that these dedicated growers can get back to growing Good Food. While there are many incredible local farmers in the Mid-Atlantic who we buy from year-round, we also source from small farmers in more temperate growing regions who uphold our shared values- care for the environment, laborers, and local community.
Our extended local and regional network means that year-round, we can support many farmers while also offering the variety that most people want to eat, especially during the colder winter months, from Fair Trade avocados to Rio Star grapefruits. This model enables small farmers to thrive and customers to know and feel good about where they spend their food dollars. In the food industry, where national and even international supply chains fraught with labor and environmental harm are commonplace, transparency and a sense of place are precious commodities.
Our strong and dynamic producer relationships also allow us to offer robust variety year-round. We will always offer what's in season from local farmers, but if you get sick of potatoes and cabbage in the winter, we are also able to source from the abundance of farmers in warmer climes. This means you can enjoy berries earlier and tomatoes later and even have warm weather crops in the winter!
This spring, we invite you to join our mission of building a more equitable, sustainable food system and resilient local economy where Good Food is the norm, not the exception. We're very much a part of community-supported agriculture – and with your help, we're continually expanding who that community encompasses!
While traditional CSAs are the best way for conscious consumers to directly support local agriculture, we deliver an array of fresh, healthy food to folks who aren't able to make that model work in their household. If you'd like to learn more about traditional CSAs, visit last year's CSA list from Edible DC as well as a sampling of our partnering farms who offer direct shares, as outlined below.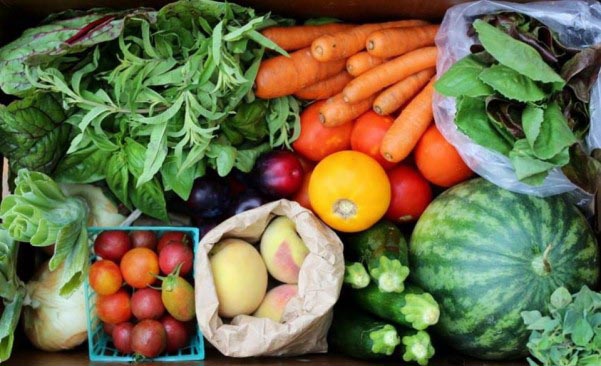 Virginia Bison Co. at Cibola Farms