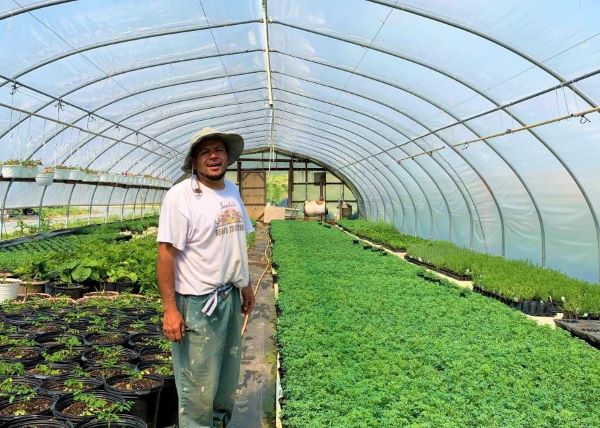 Celebrate Earth Day with Food that is Better for the Earth
April 25, 2021 by 4P Foods
According to research by the USDA Economic Research Service, less than 1% of the 911 million acres of total farmland nationwide is certified organic (USDA ERS). Industrial agriculture, which maximizes production and profit at the cost of human and environmental health, dominates food production in the U.S. With so many choices, confusing labels, and mega-companies at the grocery store, shopping your values can be overwhelming. At 4P Foods, our goal is to empower you to transform the food system by making it easy to eat Good Food that's healthy for you and the planet.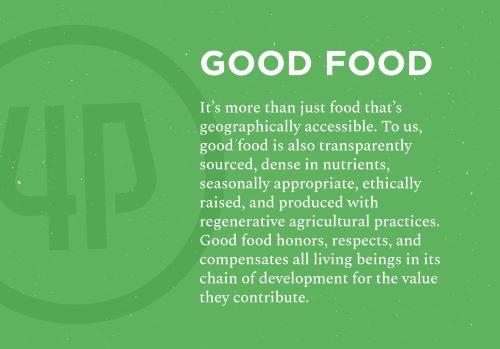 4P Foods values environmentally friendly practices year-round and always aims to fill your reusable 4P bags with "Good Food" — food that is ethical, transparently sourced, nutrient-dense, fair, and sustainably produced. At 4P, Good Food is beyond local and gives back to the community to make healthy options accessible to all people. Here's more about our sustainability efforts.
ORGANIC AND SUSTAINABLY GROWN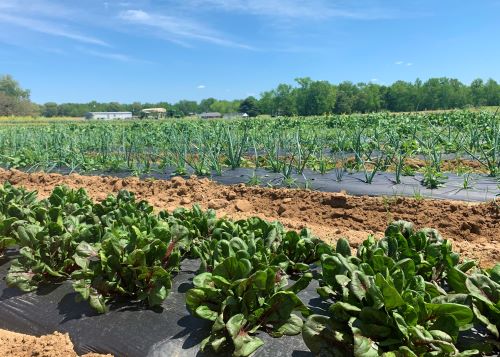 Farmers work hard to keep the land and soil healthy, planting seeds for future generations as they also feed the community. 4P's network of 200+ farms includes independent and family farms who practice low-impact, sustainable, and beyond organic farming practices. Many of our farmers are Certified Organic, while many of those who are not USDA Certified are either transitioning to organic or are using Organic practices but choose not to certify due to cost or timely administrative burden. At 4P Foods, our long-term goal is to go beyond organic partnering with fully regenerative farms who not only maintain the environment but increase soil health, sequester carbon, and raise biodiversity, while prioritizing land for BIPOC farmers, to fulfill the vision of building a more resilient and equitable future. Whether you support Certified Organic, hyper-local, BIPOC, or woman-owned businesses, you can always shop your values when you customize what's in your 4P Bags.
YOUR CONNECTION TO FARMERS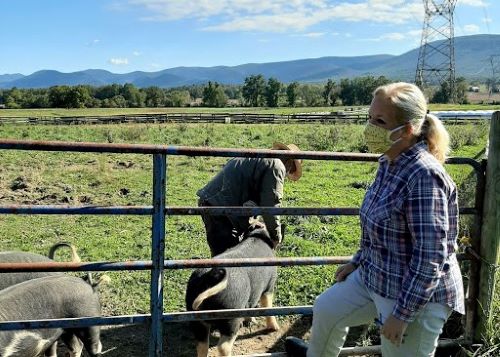 Each week, we bring in a fresh selection of produce (plus meat, dairy, and pantry) from our local farmers and regional food hub partners. At 4P Foods, we call our farmers "partners" for the kind of real relationship we have working directly with many farmers and paying fair prices. This spring, we deepended our relationship with local farmers with an intensive production planning process where the 4P team spent over 60 hours with 28 hyper-local growers to map out next season's harvests for your 4P Bags. Together we planned over 90 crop varieties for the spring and summer season! Working with farmers means we take the farmer's preferences of what crops they really like to grow, and the farm's business goals in mind. Your continued support allows small sustainable farmers not just to thrive but to grow, which means planting with confidence.
NO WASTE MODEL WHERE FOOD IS DONATED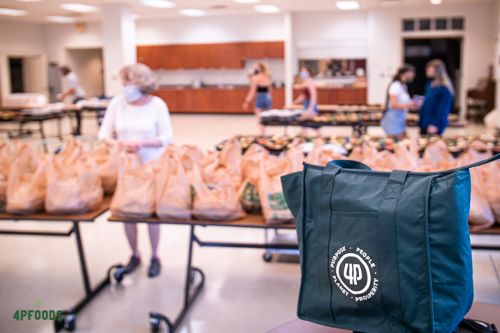 Research shows that up to 40% of all food in the United States is wasted and food scraps are the main type of waste at the landfills, accounting for approximately 22% of trash in the landfill (EPA). Overstocking is not a problem at 4P Foods, where we work with growers and measure demand to bring in only what we need every week. Extra food in our coolers is donated to feed those in need. 4P donated over 17,000 lbs of fresh food to the Fauquier Community Food Bank in 2019. Together with community partners, we respond to need to donate food, help coordinate extra donations or provide logistics for food access initiatives throughout the communities we serve in DC/MD/VA. As always, we invite the public to make a donation to our weekly Donation Bag Program here.
COMPOSTING NUTRIENTS BACK INTO THE SOIL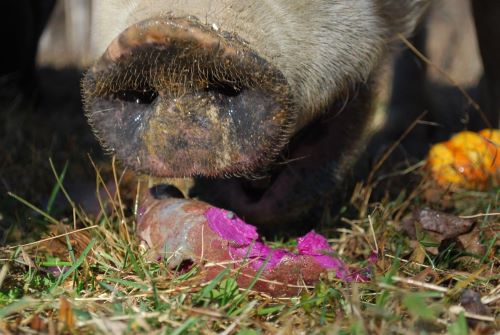 Any instances where food cannot be otherwise donated, we do our part by composting food back into the soil. Food discarded in a landfill breaks down without oxygen producing greenhouse gases (primarily methane) contributing to global warming. In comparison, composting recycles materials into a nutrient rich soil amendment. 4P Foods composts at our Charlottesville warehouse with a local compost facility. We also donate food scraps past their prime to our farmer friends to feed to livestock (like these happy Berkabaw pigs munching on purple potatoes at Autumn Olive Farms). Animals can be another form of compost when they are pasture-raised in holistic management practices— they uproot the soil, spread manure, and cycle nutrients back into the soil, regenerating the land. We recommend starting your own compost, search for compost options at a neighborhood community garden, local farmer's market, or find a compost facility near you.
EAT GOOD FOOD, CHANGE THE WORLD
Since our founding in 2014, our mission has been to build a more equitable sustainable food system. With every purchase, we hope you are empowered to support your values via our alternative, transparent supply chain and impact as a company (In fact, the 4P's are an expansion of the idea of the triple bottom line: People, Planet, Prosperity, and Purpose— learn more about here). Each week, we bring in the best food of the season and invite you to eat with us. Support small farmers and artisans, sustainable food, and food access in your community with every 4P Foods delivery— and tell your friends!