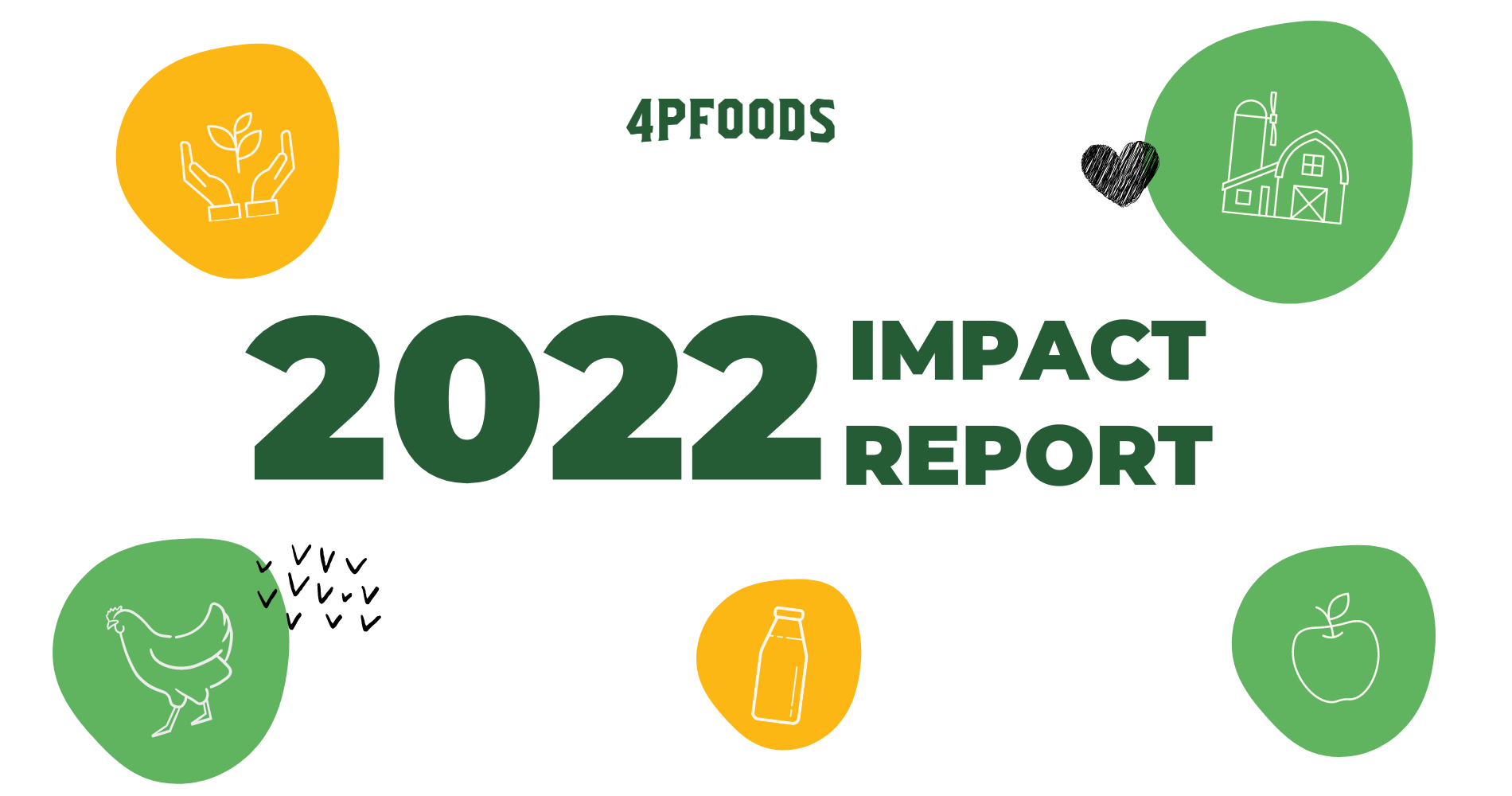 4P Foods' 2022 Impact
February 17, 2023 by 4P Foods
Since launching in 2014, 4P Foods has delivered in-season produce sourced from independent farmers we know and trust in Washington, DC, Virginia, Maryland, and throughout the Mid-Atlantic. Each day, 4P Foods gets closer to the kind of food system where farmers thrive, soil is regenerated, animals are treated humanely, and all communities have equitable access to healthy food. With the support of our customers, growers, artisans, and community partners, 4P Foods was able to further our mission in 2022.
In 2022, we worked with 154 independently owned farms and businesses in the Mid-Atlantic. Rebuilding a regenerative and equitable food system begins with working with farmers who are good stewards of land, food, animals, and communities.
79% of our farmers are located in Virginia. By prioritizing local and regional producers, the food miles for 4P Foods' produce is an average of 300 miles. The average food miles for the industrial food system is 1,300 miles.
This year we onboarded 3 regenerative producers. This doubles the number of producers we work with that promote biodiversity and sequestering carbon in the soil to a total of 6. Our food system begins with farmers, the individuals taking care of our lands and animals. Only 15% of global farmland is managed using regenerative practices and transitioning to regenerative management is expensive. Part of the long term vision is to help farmers find partners and earn revenues needed to fund the costly transition to regenerative agriculture.
When you buy your groceries through 4P Foods, $0.66 of every dollar you spend makes it to the farmer. In the industrial food system, only $0.14 of every dollar makes it to the farmer (This is a record low farm share value).
By shopping with 4P Foods, all of your grocery orders added up to a $4,182,187 direct spend with our farmer partners. That makes a big impact in our local and regional economy!
Top products in 4P Foods grocery totes in 2022
Our top selling produce this year were:
Blue Ridge Crisp apples
Blueberries
Broccoli
Sugar cube cantaloupe
Meyer lemons.
That's a fruit-full tote!
Your top protein picks:
The most delightful dairy item in 2022:
The top selling pantry item:
What were we cooking up in the 4P Foods' kitchen in 2022?
Your top recipes for 2022 were:
(Did you make any of these? Don't forget to tag your recipes with #4PKitchen, so we can share your delicious creations in 2023!)
4P Foods' Food Access Work
In 2022, 4P Foods delivered $291,384.70 worth of food for these organizations.
We work with organizations to help increase access to delicious, nutrient-dense food in the communities they serve. Our partners include Local Food Hub and their Fresh Farmacy initiative, Washington Nationals Youth Baseball Academy, Fauquier Community Food Bank, and Brighter Bites.
Top 4P Foods' News In 2022