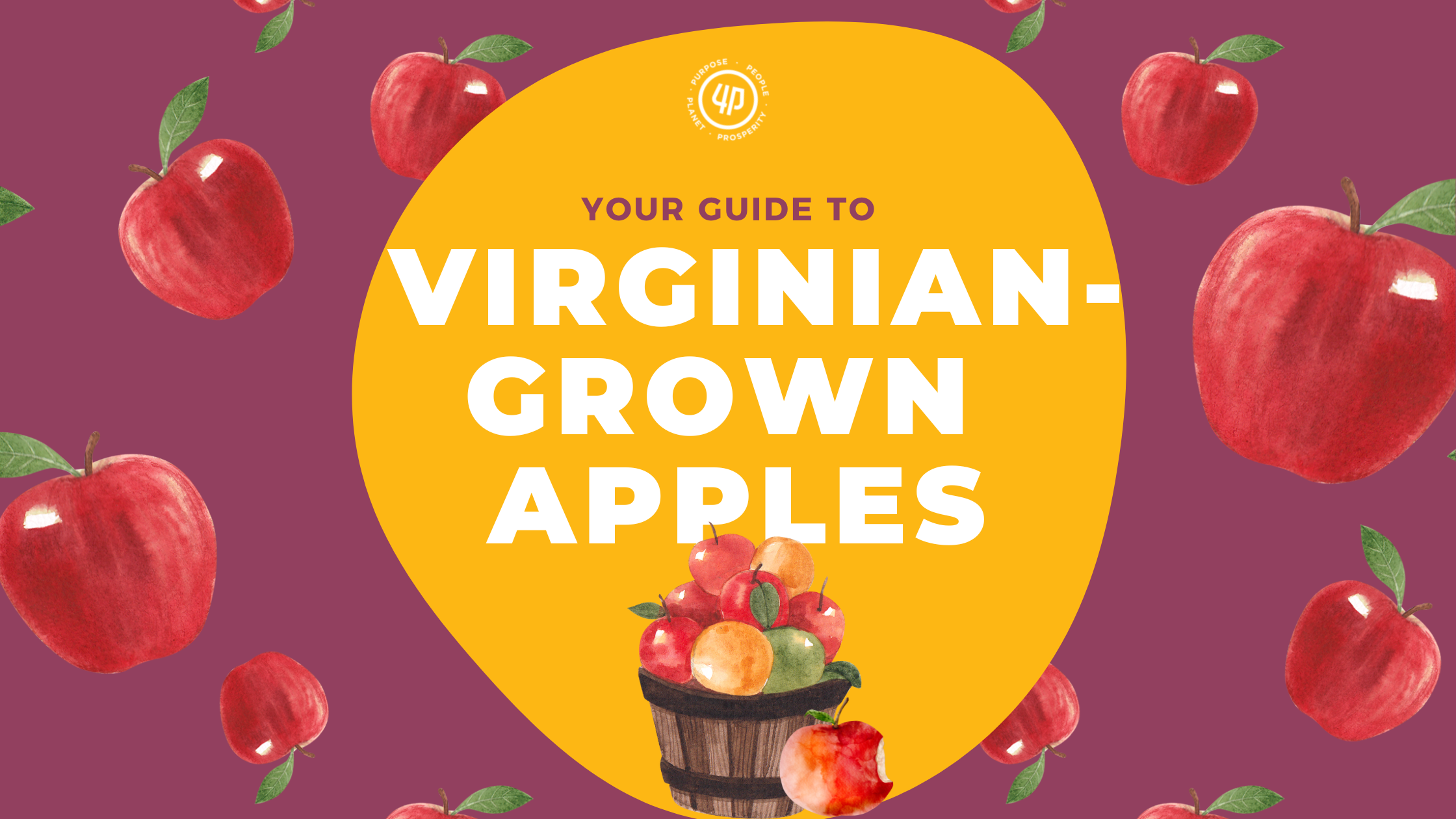 Apple-ly Ever After: A Tale of the Best Virginia-Grown Apples
September 15, 2023 by 4P Foods
In the Mid-Atlantic, the weather is cooling down and we are awaiting the arrival of some of the juiciest apples in the country. Virginia has great weather conditions for growing an abundance of delicious apples: warm days, cooler nights, and consistent rain.
Some apple varieties can be harvested as early as August, but most of our most popular varieties are harvested from September to November.
WELLNESS BOOST: There is something to the old saying "An apple a day keeps the doctor away." Apples contain antioxidant phytonutrients that prevent many health issues.
With the cool, crisp autumn weather and the beautiful Shenandoah Valley, it's advisable to go out on an apple-picking adventure or two. However, if you would rather stay inside and make a delicious apple pie, 4P Foods can deliver wonderful Virginia-grown apples right to your door. The orchards we source from include F.T. Valley Farm, Crown Orchard, Saunders Brothers Orchard, Dickie Brothers Orchard, and Silver Creek and Seaman's Orchard.
Gala Apples
Gala apples are one of the first apple varieties to become available with their harvest beginning in early fall.
They have a distinctive red-orange color peel with yellow stripes. Gala apples are juicy and crisp, with a sweet-tart flavor. First developed in 1934 in New Zealand, they are now grown by many Virginia farmers. Gala apples are a great snack apple, and they also make a great addition to a salad.
Fuji Apples
Keeps in the fridge for up to one month!
Fuji apples have a blush color with green and yellow stripes and are known for their sweet flavor.
They are from Virginia, crossed between Red Delicious and Virginia Rawls Jannet. First harvested mid-autumn, Fuji apples hold up well in cold storage and are an apple you can get in the winter months.
They are just as hearty as they are sweet, and can be stored in the refrigerator for up to a month. When Fuji apples are included in your 4P Foods tote, store them in the refrigerator to keep them fresh for up to a month.
Shenandoah Apples
Perfect for all American apple pie!
Named for the valley here in Virginia, Shenandoah apples were discovered in the 1940s. They are a cross between a winesap and an opalescent apple. It is sweet in flavor, fairly large in size, and holds its shape well when baked; making it a great apple to use for apple pies!
Gold Rush Apples
Keeps in cold storage. Great for Apple Cider.
Gold Rush apples were created from a Golden Delicious apple crossed with several other apple cultivators.
They were bred to resist several kinds of pests which makes them a heartier apple to grow. Their flavor is slightly more tart when first picked, but they sweeten up off the tree. Once sweet, they taste very similar to a Golden Delicious apple.
They are a great apple for cold storage, so they are available well into the winter months and even early spring. Gold Rush apples also contain more acid than other apple varieties, making them a good choice for our delicious apple cider.
Honeycrisp Apples
The snacking apple!
Honeycrisp apples are one of the first local varieties we see in Virginia. They have a sweet, almost tangy flavor and are well known for their bright pink, yellow, and green coloring.
They have a more delicate skin making them a preferred snacking apple. Honeycrisp apples are the most popular apple developed by Minnesota's Agricultural Experiment Station.
Jonagold Apples
Only available in October!
SHORT SEASON ALERT: In Virginia, Jonagold Apples have a short season beginning in October, so grab these sweet and tangy apples before they're gone for the year.
This larger apple variety varies in color from greenish yellow to red with yellow and green undertones depending on strain and growing climate.
At 4P Foods, we usually get yellow and green Jonagold Apples. Jonagold Apples are named for being a cross between Golden Delicious and Jonathan apples. They were first bred in 1953 by the New York State Agricultural Experimentation Station.
Pink Lady Apples (aka Cripps Apples)
Known for their intense pink and yellow color.
Pink Lady apples or Cripps Apples require a hotter climate, lots of sunlight, and a longer growing season, so we expect to see these ladies around late autumn. Known for their bold pink and yellow color, Pink Lady Apples were first developed in Western Australia as a cross between Golden Delicious apples and Lady Williams apples.
The name "Pink Lady" was chosen for marketing purposes. Only Cripps apples with the right balance of sugar to acid and the intense color pink and yellow color are sold as Pink Lady apples.
Stayman Apples
Great for baking!
Stayman apples are a favorite among apple lovers. Discovered by Dr. Stayman in Kansas in 1866, they are well known for their beautiful crimson color. They are firm apples with a crisp, crunchy bite and a sweet, tart taste. Stayman Apples are harvested in mid-autumn to early spring. They're an excellent choice for baking since they hold their shape well under heat.
Granny Smith Apples
Keep on snack trays and perfect for candied apple treats!
Known for their classic green color, Granny Smith apples are so nicely tart and lightly sweet!
Granny Smith apples hold their shape when cooked making them a favorite for pies and crisps. When cut, they don't brown easily meaning they are a great choice for fruit trays. Granny Smith Apples have a long season and can be harvested from autumn through spring.
Red Delicious Apples
Best when purchased locally.
BUY THESE LOCAL: Red Delicious apples get a bad reputation for being tasteless, but that's because they're a popular apple that is shipped all over the country. When apples aren't picked when ripe and then shipped far distances, of course they are going to be tasteless.
Locally-grown Red Delicious apples are the best! They are a crisp, sweet, and firm apple variety. In Virginia, Red Delicious apples are harvested early autumn through early spring.
Golden Delicious Apples
A good apple for snacking, applesauce, pies, and apple butter.
Golden Delicious apples are known for their delicate golden-green color skin. These apples are crisp and super juicy making them perfect for snacking, applesauce, pies, and apple butter. Their harvest usually starts in early autumn, but with cold storage you can expect these apples to be available through mid-spring.
Evercrisp Apples
Discovered by accident in Indiana.
Evercrisp apples are well known for (no surprise here) their crispness. They are crunchy and very sweet!
Evercrisp apples were discovered by farmer David Doud in 2008 in Indiana. He was picking crab apples and stumbled upon an apple that tasted different. He sent samples of this apple to the Midwest Apple Improvement Association. They picked the best tasting, most crisp varieties to breed.
Ambrosia Apples
Known for their honey sweet flavor.
Ambrosia apples were first discovered in British Columbia. They are slightly crisp, sweet, and not as acidic as some apple varieties.
Ambrosia apples have a beautiful yellow, creamy color with orange and red blush spots. Their name comes from the Greek language and ancient mythology for "food or drink of the gods," due to their honey-sweet flavor.
In-cider Info: Apple Cider
The apple cider in your 4P Foods tote is sourced from Silver Creek and Seaman's orchard in Tyro, Va. Fresh pressed at their facility here in Virginia, this apple cider is made with Virginia-grown apples and treated with UV to preserve the full flavor of the apple. Treating with UV light is a gentler process than heat pasteurization, so less of the apple flavor is lost.