4P Foods Covid-19 Response & Food Safety Procedures
March 17, 2020 by 4P Foods
We're working every day to make sure that our sanitation, food handling, transportation, and staff health and hygiene practices follow best practices and demonstrate our commitment to a culture of food safety and quality. Here's more about what we're doing:
COVID-19 Procedures
We wash our hands frequently and use gloves when handling food. All packing surfaces in our warehouse are food grade and are cleaned and sanitized before and after each use. We have also increased cleaning and surface sanitizing throughout our offices, warehouses, and trucks.
We clean and sanitize our reusable bags when they are returned, and discard them if they show any signs of damage, and given at least a one-week resting period before repacking. Meat and dairy bags are cleaned and sanitized when returned, then given the same resting period.
Staff is required to wash their hands often with soap and water for at least 20 seconds or to use hand sanitizer provided throughout our facility. Drivers wash and sanitize their hands and vehicles frequently, and wear disposable gloves during delivery.
Our staff are provided with KN95 face masks which they wear throughout the workday.
We have installed new air filtration systems at both warehouses to help protect workers.
We changed how we do our packing to enforce social distancing and keep people apart as much as possible and we've minimized all in-person interactions in the workplace.
We perform daily health and temperature checks and make sure that everyone feels empowered and obligated to speak up and stay home if they don't feel well.
We communicate closely with our family of local farmers and producers to make sure they have the information and resources they need to ensure safe growing, harvesting, and transportation practices.
Finally, we have engaged several consultants to help ensure that we as a company are doing everything we can to keep our staff safe— in addition to monitoring new guidance from the CDC, FDA, USDA, and Virginia Cooperative Extension— and will continue adjusting our practices as necessary.
We want to assure you that we are determined to continue our role of connecting households and communities to Good Food, while also implementing best practices to keep you and our customers, our food supply, and our staff safe. If you have any questions, concerns, or feedback, please don't hesitate to contact us.
Our Community Response
At 4P Foods, we constantly strive to lead with purpose—to advance our mission of ensuring that all people can eat Good Food and all farmers can make a living growing Good Food. Despite the challenges the COVID-19 pandemic has presented, it has only added urgency to that mission. 4P has deepened our commitment to working with like-minded actors to build the Good Food system that will equitably and sustainably serve this region for generations to come. As 4P Foods Founder & CEO Tom McDougall put it, "Our hope is that after the pandemic, people won't forget what is happening right now—and will stay involved to change the system," (National Geographic, July 2020). While there is certainly a long road ahead, with your support, we are making progress each and every day.
Continue reading for updates to 4P's COVID-19 Community Response.
---
Mid-Atlantic Food Resilience and Action Coalition (MAFRAC)
February 1, 2021
In addition to continuing our delivery services, 4P Foods is also mobilizing an extensive coalition of regional partners to make sure that you, your neighbors, kids who rely on school meals, older adults, people who are home-bound, and everyone in need is able to access food – good, nourishing food, and plenty of it– while schools and institutions are closed to slow the spread of coronavirus. The Mid-Atlantic Food Resilience and Action Coalition (MAFRAC) is activating schools, food banks, kitchens, delivery vehicles, and more to mobilize the supply chain that will get food to people who need it in the immediate term and beyond.
Local food systems literally and figuratively feed communities—they drive economies, create connections, provide nourishment, and employ countless people, from farm laborers to dishwashers. Now, more than ever, it is critical to support small farmers, the backbone of so many small businesses and so much in our community.
We're all in this together, and we're all dedicated to demonstrating that when our communities need help, our local food system is ready to answer the call. To learn more, read our blog post, Coalition Creates Links to Feed and Be Fed.
---
2020: Year In Review
January 10, 2021
At 4P Foods, your food dollars make a real and measurable impact. In 2020, we deeply enhanced our mission of making sure that Good Food is accessible to all people by extending our collaborations with partnering community organizations even further to help ease the burdens of the COVID-19 crisis. Here are our top 5 impact metrics that we accomplished together thanks to the hard work of our community partners, members, farmers, producers, and supporters: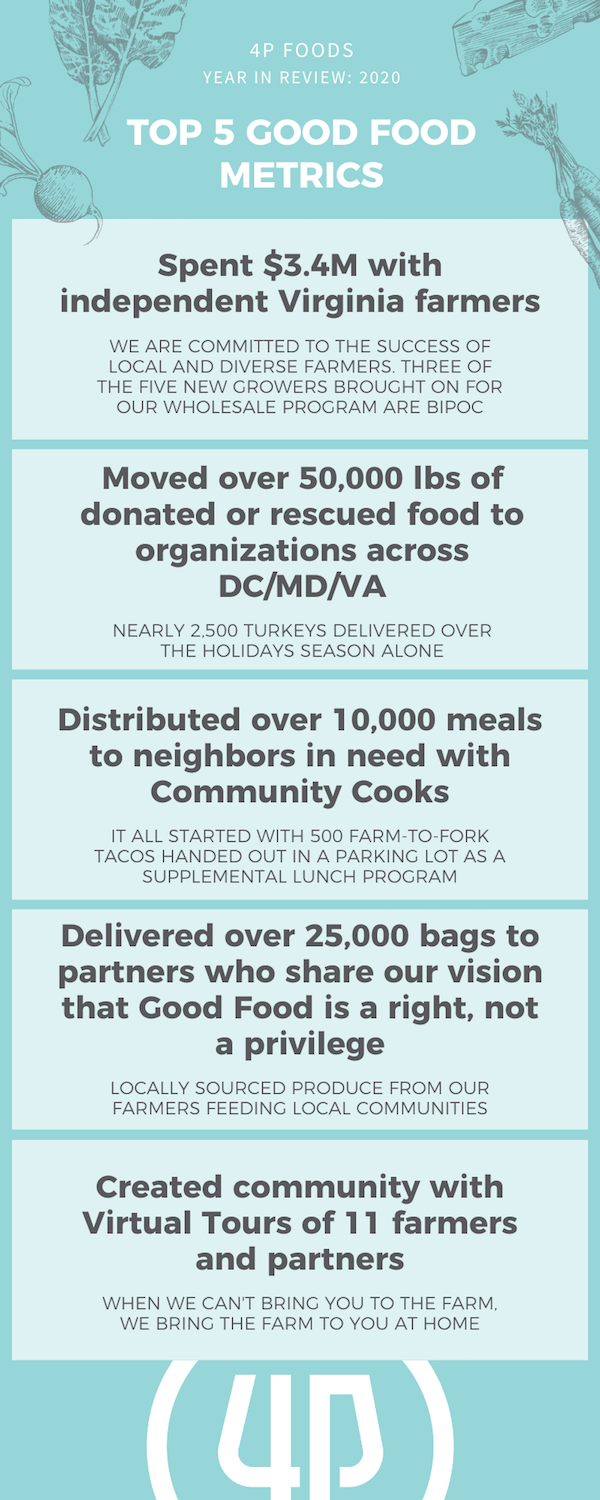 We invite you to read more about our journey through the growth and challenges of the past year through our recap blog post, 2020: Year In Review.
---
Food Distribution Update
July 17, 2020
Our wholesale distribution came to a near halt when the COVID-19 shut-downs began and our farmers had a sudden excess of product due to institutions and key buyers temporarily closing their doors. At the same time, local restaurants and cafes were closing too, and we saw an opportunity to work together to process farm-fresh, quality ingredients into ready-made meals to help feed anyone facing food insecurity. On March 24, 4P hosted "Taco Tuesday" in Warrenton, handing out prepared taco meal kits to families and individuals for free or pay-what-you-can, no questions asked. Over the course of three months, 4P's Taco Tuesday concept continued at several sites across Fauquier County (where the 4P warehouse resides) and with the help of Honeyflower Foods, community volunteers and the Fauquier County Child Care Center, we distributed nearly 5,500 meals. This program expanded into a partnership with Community Cooks and Warrenton Wellness Kitchen and another 3,900 locally sourced and made family meals were distributed to those in need.
Watch the video about Community Cooks posted below.
---
GoFundMe Update
June 5, 2020
At the start of the pandemic, 4P Foods launched a GoFundMe campaign in order to raise funds for immediate emergency food distributions in response to the heightened food insecurity and food business closures in the communities we serve. The campaign became known as the Emergency Food + Farm Fund for the Greater DMV/VA. For nearly three months, the outpouring of support and generosity has been astounding and critical for the livelihoods of some of our partnering farmers, food businesses, and those in need of supplemental food during this crisis. Thanks to the generous support of donors, $36,503 was raised in three months that contributed to nearly 8,500 ready-made meals distributed to those in need. For more information, please read our fundraiser update letter sent to donors and posted here.
---
Community Response: Update
April 9, 2020
In the days since our COVID-19 Procedures and Community Response was first written, the 4P team has been hard at work helping feed the most vulnerable members of our community– from farmers to families across the greater DC/MD/VA region— working with dedicated non-profit and community organizations. We're helping to lead the Mid-Atlantic Food Resilience and Access Coalition (MAFRAC) to address the weaknesses in our food system exposed by the COVID-19 pandemic. From empowering local organizations, food banks, and institutions to helping small farms and companies connect to people who need good food, MAFRAC is behind so many food access. For more information, read our Press Release.